Central European IUSSI Meeting from March 19 to 22, 2019 in Austria
Reading Time:
2
minutes
European social insect conference comes to Austria:
IST Austria hosts the next Central European IUSSI Meeting from March 19 – 22, 2019.

News by Sylvia Cremer
The 2019 Conference of the Central European Section of the International Union for the Study of Social Insects (IUSSI) and a Social Immunity Workshop will be held at IST Austria in Klosterneuburg close to Vienna from March 19 – 22, 2019. Download poster here!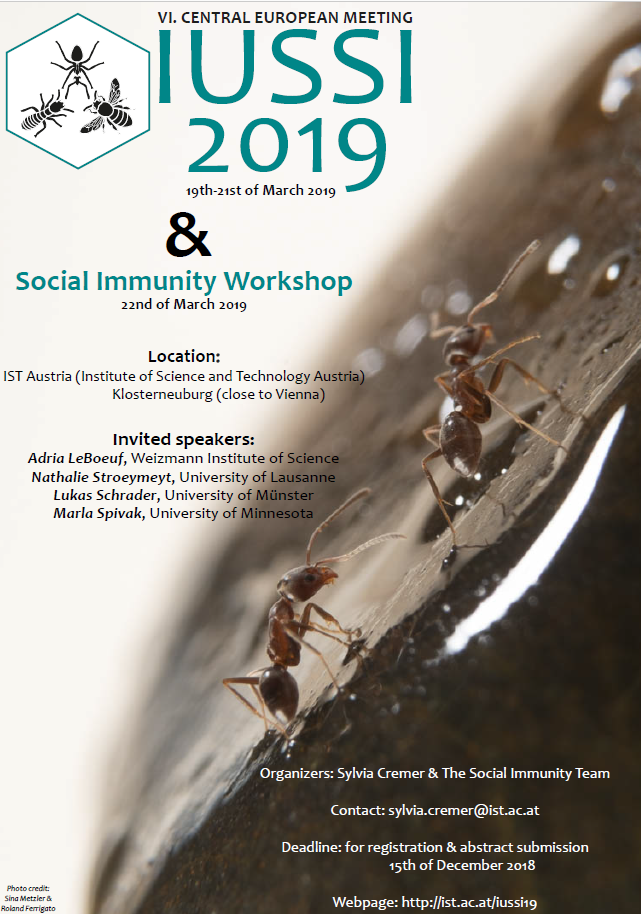 Check out the web page of the CE IUSSI 2019 : http://ist.ac.at/iussi19/welcome/
Check out the web page of the Central European Section of the Society:
http://www.bayceer.uni-bayreuth.de/IUSSI/en/zentraleur/gru/html.php?id_obj=114942
What to expect? The CE IUSSI conference (March 19 – 21, 2019) is a biannual meeting that brings together researchers interested in the ecology and evolution of social insects. Invited speakers will be Nathalie Stroeymeyt, University of Lausanne; Adria LeBoeuf, Weizmann Institute of Science; Lukas Schrader, University of Münster and Marla Spivak, University of Minnesota. Ample of opportunity will be given to PhD students and postdocs to present their work as both oral or poster presentations. We will visit the Natural History Museum of Vienna that offers us a "behind the scenes" tour.

The Social Immunity workshop (March 22, 2019) will introduce the concept of collective disease defense in social insects, show methods for the study of disease and insect immunity, and give hands-on insight into experimental work of ant-pathogen interactions. It is aimed at the PhD and postdoctoral level and will involve discussion rounds and a visit to the social immunity laboratory at IST Austria. Check out the Social Immunity Team web page: https://ist.ac.at/de/research-groups-pages/cremer-group/

Important infos: Please note that the deadline for registration and abstract submission is December 15th 2018!
Registration fees are reduced for IUSSI members and for PhD/postdoc level. IUSSI members from less-privileged countries can apply for travel support.

To register, follow this link here: http://ist.ac.at/iussi19/registration/
To submit an abstract, follow this link here: http://ist.ac.at/iussi19/abstract-submission/
The IST Austria is a PhD granting fundamental research institute in the outskirts of Vienna, founded 10 years ago. It has a strong focus on life sciences and natural sciences and fosters interdisciplinary interactions across research fields. Check out their web pages:

Please visit the graduate school web page for more information:
https://phd.pages.ist.ac.at
For funding opportunities for postdoctoral research see:
https://ist.ac.at/research/postdoctoral-research/istplus/
We look very much forward to your participation,
Sylvia Cremer and the Social Immunity Team at IST Austria
sylvia.cremer@ist.ac.at