The Harvard Museum of Natural History presents a free public, livestreamed lecture: Chasing ants in the rainforest
Reading Time:
2
minutes
The Harvard Museum of Natural History and the Microbial Sciences Initiative at Harvard University are hosting Corrie Moreau, Moser Professor of Arthropod Biosystematics and Biodiversity, Cornell University, on Wednesday, April 10th at 6pm for a presentation on "Chasing Ants (and their Microbes) in the Rainforest." Moreau will visit as a guest speaker for the Evolution Matters lecture series, now in its 10th year, and recently secured by a generous gift from Drs. Herman and Joan Suit.
News by Bethany Carland-Adams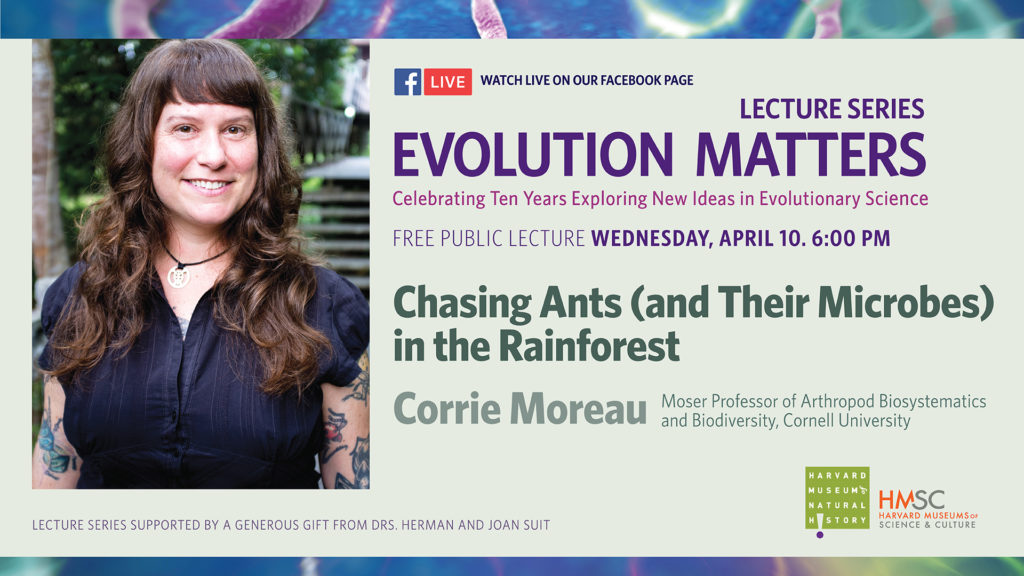 Moreau explores how microbes play critical roles in the biology and health of human beings, but we are not the only species that benefits from intimate relationships with microbes. Ants, for instance, rely on the microbial communities living in their guts to process food and make strong armor. Moreau will discuss this unique aspect of ant biology and what it tells us about the diversity and dominance of ants in terrestrial ecosystems, the evolutionary history of social insects, and the broad-scale evolutionary patterns of life. Moreau says, "I am interested in the origin, evolution, and adaptation of species and maintenance of symbioses, and in particular, how different factors may influence patterns of diversification. Much of my research focuses on gut-associated bacteria in the ants. By coupling this information with data on diet, trophic ecology, evolutionary history and biogeography, I hope to gain a better understanding of how intimate interactions influence patterns of diversity. Using information about current species distributions, genetic diversity, the impact of invasive ants, evolutionary history, and endosymbiotic bacterial communities I hope to understand how past climate change has impacted current species and if this information can better inform us to protect biodiversity. Ultimately I am interested in teasing apart the evolutionary history of social insects and their gut-associated microbes and using this information to better understand the broad-scale evolutionary patterns of life."
Corrie Moreau's research on the evolution and diversification of ants and their symbiotic bacteria leverages molecular and genomic tools to address the origin of species and how co-evolved systems benefit both partners. She also pursues questions on the role of biogeography and symbiosis in shaping macroevolutionary processes to better understand broad-scale evolutionary patterns of life. Moreau is also engaged with efforts to promote science communication and to increase diversity in the sciences. She holds a Ph.D. in Evolutionary Biology from Harvard University and completed her undergraduate and master degrees in Biology at San Francisco State University. She was elected an AAAS Fellow in 2018, a Kavli Fellow of the National Academy of Sciences USA in 2016, and highlighted as a Woman of Impact by the National Geographic Society in 2018. She has curated exhibits for the Field Museum of Natural History and is also the founder of the Field Museum Women in Science Group.
The talk will also be livestreamed on their Facebook page and website starting at 6pm on Wednesday.
More details here:https://hmnh.harvard.edu/event/chasing-ants-and-their-microbes-rainforest