Top 10 Blog Posts 2018
Reading Time:
< 1
minute
At the tender age of seven months, Myrmecological News Blog already comprises 49 contributions – a great occasion to celebrate and to thank those who helped realize the blog. Thank You to all the many who contributed views, reviews, interviews, and photoblog contributions on a great diversity of exciting ant topics, from field to lab and from taxonomy to genomics, from all around the globe. Thank You to the Production Team working behind the scenes and bringing the blog to thrive. And Thank You to all our readers and the fantastic feedback through multiple channels! We greatly appreciate it. To provide you with a review of these first months of our blog, we present you the top ten of all contributions posted in 2018 as measured by the times viewed (as of 31 December 2018). We wish all our readers a Happy New Year 2019, and stay tuned – there are exciting new contributions in the pipeline for 2019.
A View compiled by Julia Giehr, Patrick Krapf, Alice Laciny, and Felix Oberhauser
1) How many ant species are there on earth?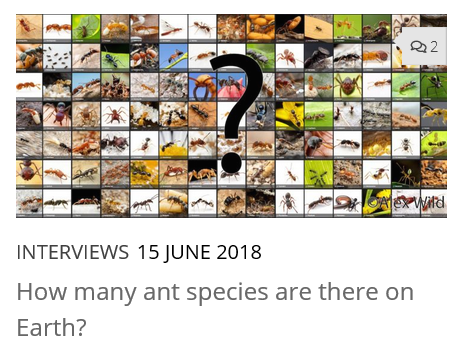 3) Nest architecture in the fire ant Solenopsis invicta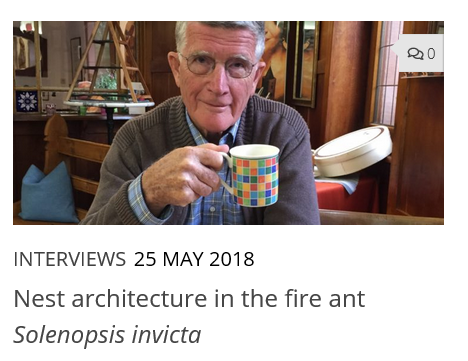 4) Ophiocordyceps – ant infecting fungi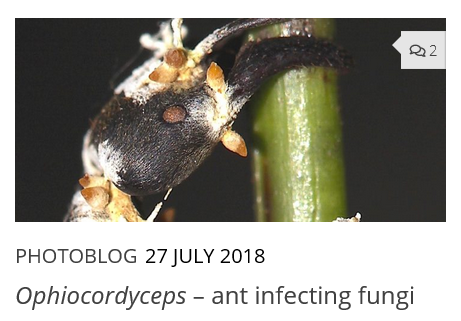 6) Does ant research need taxonomy?
7) The "Paramedic ants" of sub-Saharan Africa (Megaponera analis)
8) Doing an ant PhD: Justin Walsh
9) Diversity and distribution of Solenopsis thief ants belowground
10) Interview with Jacques H.C. Delabie