Ophiocordyceps – ant infecting fungi
Reading Time:
2
minutes
Ophiocordyceps is an ascomycetous genus comprising mostly entomopathogenic fungi. There are approximately 250 species described infecting hosts across 11 insect orders. Along its evolutionary history, the genus jumped across different host orders, but it was through the ants that the genus found its most prolific "territory." There are near to 40 species described infecting ants, but probably more than 600 myrmecophilous species are still unknown. The "zombie-ant" phenomenon, in which the fungus takes control over the ant body, is also caused by the genus Ophiocordyceps, more precisely, species within the complex Ophiocordyceps unilateralis. We have discovered many new species across the globe infecting ants, displaying unique life histories, morphologies and ecologies, but despite this increasing knowledge, fungal/ant associations still remain an understudied area of biodiversity and likely harbor one of the largest reservoirs of undocumented species among Fungi.
A Photoblog contribution compiled by João P. M. Araújo 
Orders of insects infected by Ophiocordyceps (© João P. M. Araújo)
Camponotus atriceps infected by Ophiocordyceps camponoti-atricipis, biting onto a leaf edge. (© João P. M. Araújo)
Camponotus atriceps infected by Ophiocordyceps camponoti-atricipis biting onto a liana, after a heavy rain at Brazilian Amazon. (© João P. M. Araújo)
Camponotus renggeri infected by Ophiocordyceps camponoti-renggeri, biting onto liana. The leg joints and antenna are covered by specialized cells that produce asexual spores that are transmitted by contact. The round structures (ascoma), suspended by the long stalks (stroma) produce sexual spores that will be released onto the forest floor. (© João P. M. Araújo)
Campontus nidulans infected by Ophiocordyceps camponoti-nidulantis on its typical display where the antennae are spread in order to optimize the transmission of asexual spores produced along the antenna. Dead on a summit position, aiming to spread the sexual spores. (© João P. M. Araújo)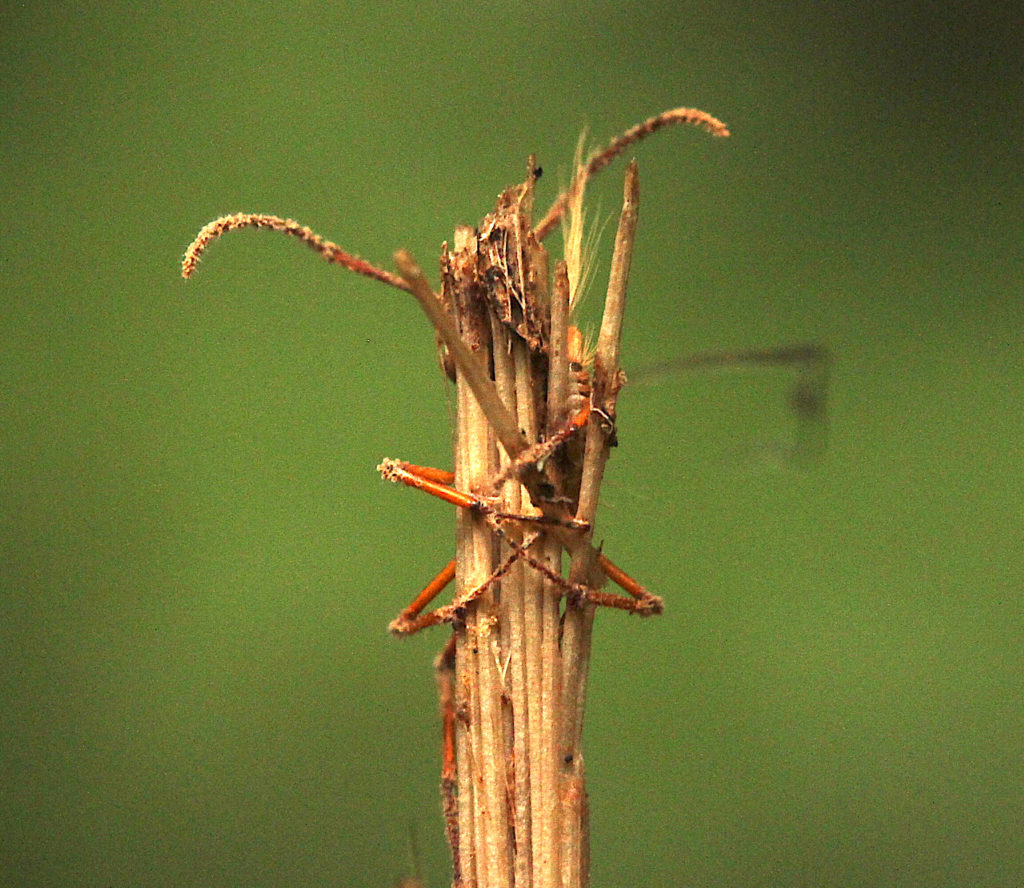 Daceton armigerum infected by Ophiocordyceps dacetini. (© João P. M. Araújo)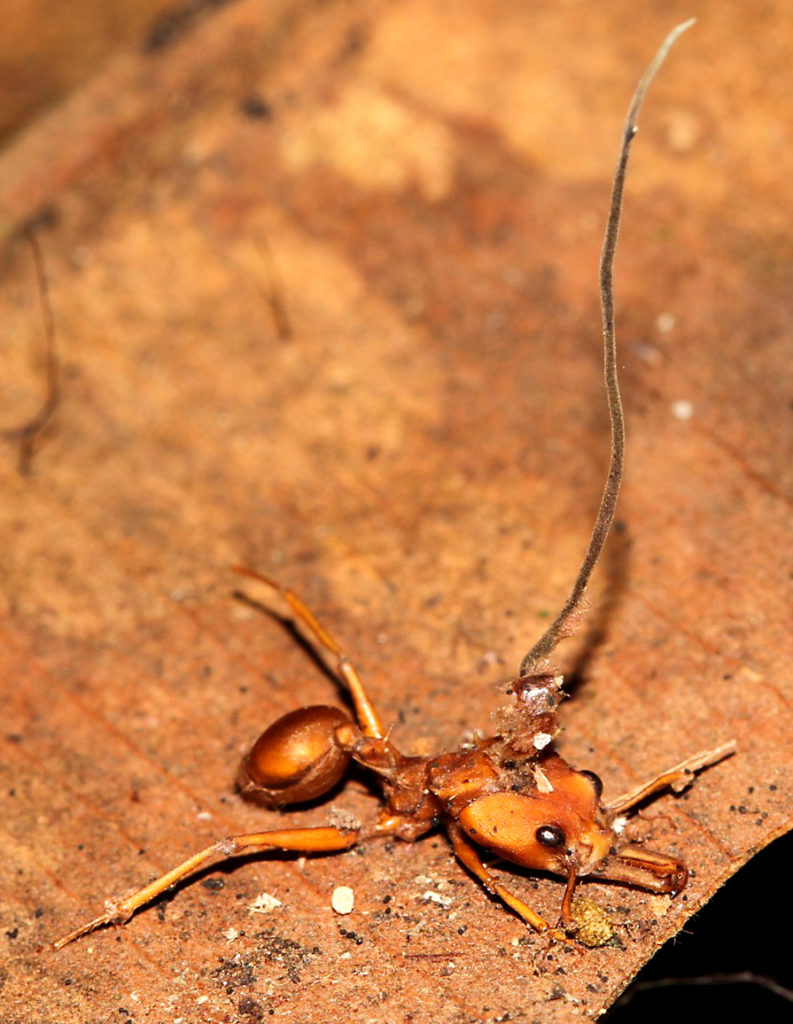 Paraponera clavata infected by Ophiocordycceps ponerinarum. In this association, the fungus leads the ant to climb up on a tree, to die attached to the trunk. (© João P. M. Araújo)
Polyrhachis sp. infected by Ophiocordyceps buquetii, in Ghana. (© João P. M. Araújo)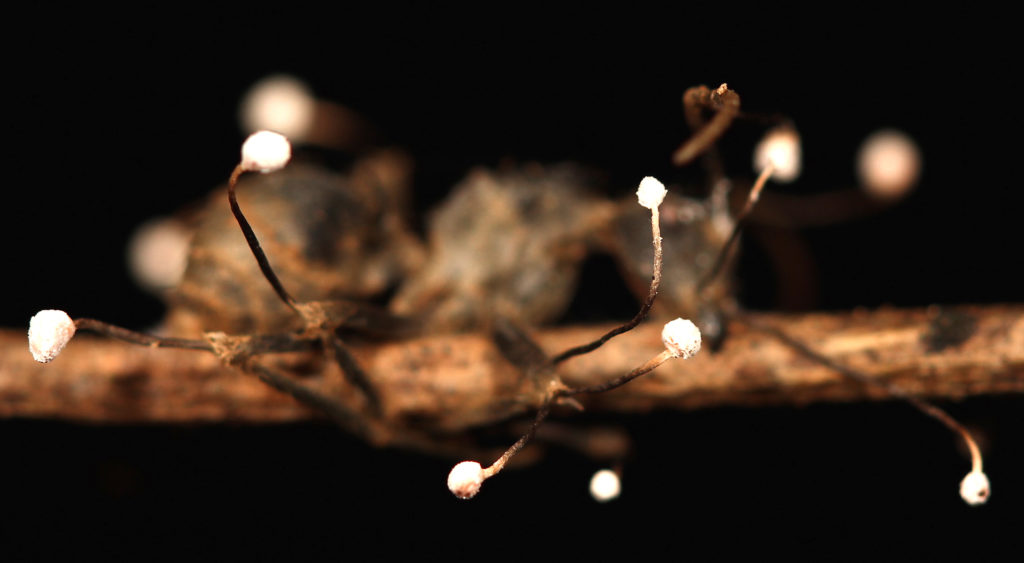 Palthotyreus tarsatus biting onto a green stem. Once infected by an Ophiocordyceps species (still undescribed), it climbs up to a vertical stem to die biting onto it. In this case, the fungus we see is actually a hyerparasite of the Ophiocordyceps fungus, which overcame it and procuced these torrubielloid sexual structures. (© João P. M. Araújo)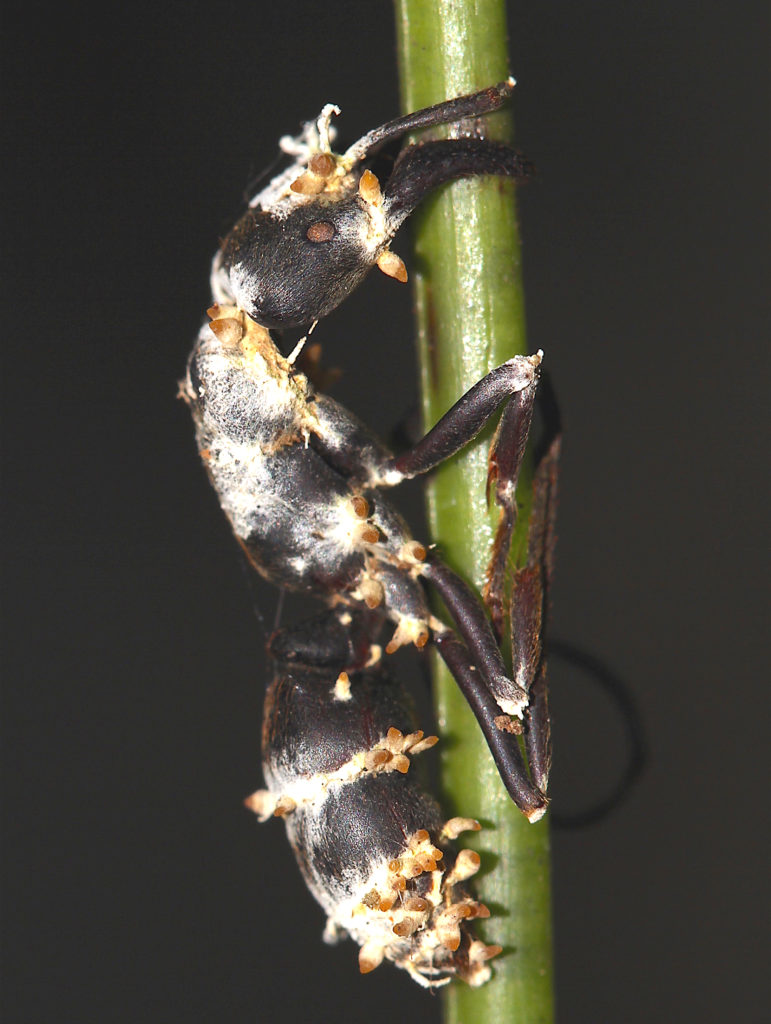 Very tip of a palm leaf, showing Camponotus hippocrepis infected by Ophiocordyceps camponoti-hippocrepidis. (© João P. M. Araújo)
Campontus bispinosus biting onto a palm spine, as it typically dies from infection of Ophiocordyceps camponoti-bispinosi. (© João P. M. Araújo)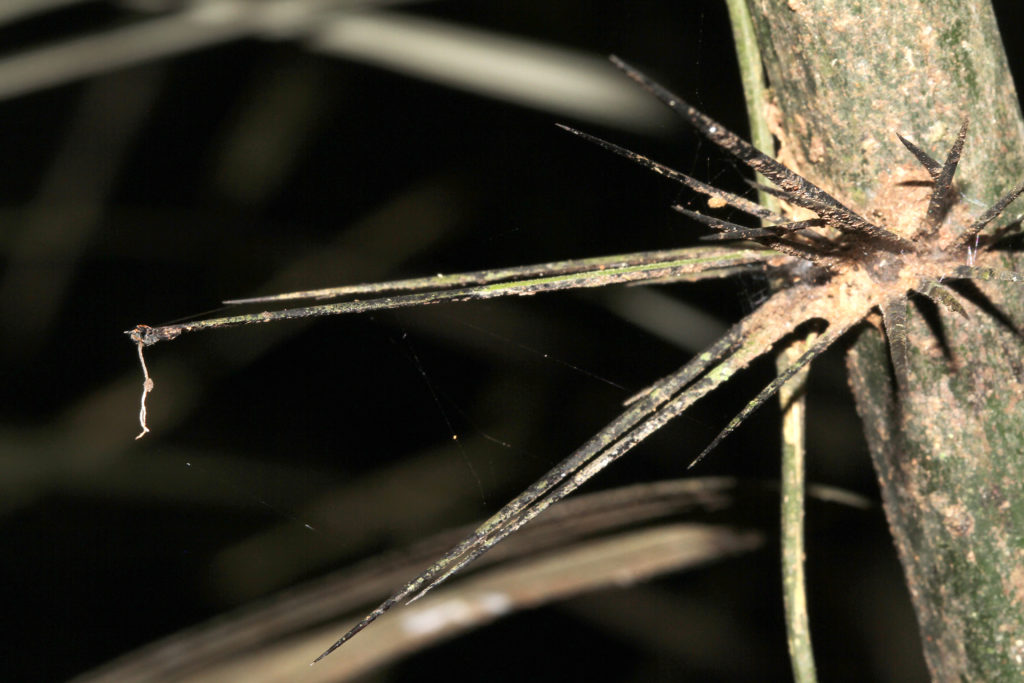 Still interested in more details? Check out their recent paper "Evidence for convergent evolution of host parasitic manipulation in response to environmental conditions" published 2018 in Evolution.