Unexpected encounter – Argentine ants in Nantes, France
Reading Time:
4
minutes
I was recently contacted by Myrmecological News' blog to write a post about our paper recently published in Insectes Sociaux: "Invasive in the North: New latitudinal record for Argentine ants in Europe" (https://doi.org/10.1007/s00040-020-00762-9). In this study, we reported and documented a 3-hectares large colony of the invasive ant Linepithema humile occurring in the center of the city of Nantes, France. Finding Argentine ants that North was unexpected because, in Europe, this species range is normally limited to the Mediterranean coast (except when occurring indoor, for example in greenhouses). The colony that we detected in Nantes is thus the northernmost Argentine ants' outdoor population known in Europe so far and possibly in the entire world (there is one reported occurrence of the species in Victoria, British Columbia, but its outdoor status is unclear). We soon realized that this at first unexpected encounter was in fact not completely surprising because climatic models predicted the presence of the species all along the French Atlantic coast. However, more surprising was that the colony occurring in Nantes was genetically identical to the Catalonian supercolony, and not to the main European supercolony that covers almost all the Mediterranean coast. The existence of this apparently well-established Argentine ants' population in Nantes is quite concerning because it suggests that the species is already spreading northward inconspicuously.
The scientific details of this story are already in the paper, so instead, Pierre and I thought it would be interesting to write about the human part of the story: unusual obsessions passions and friendship.
A Review by Jérôme Gippet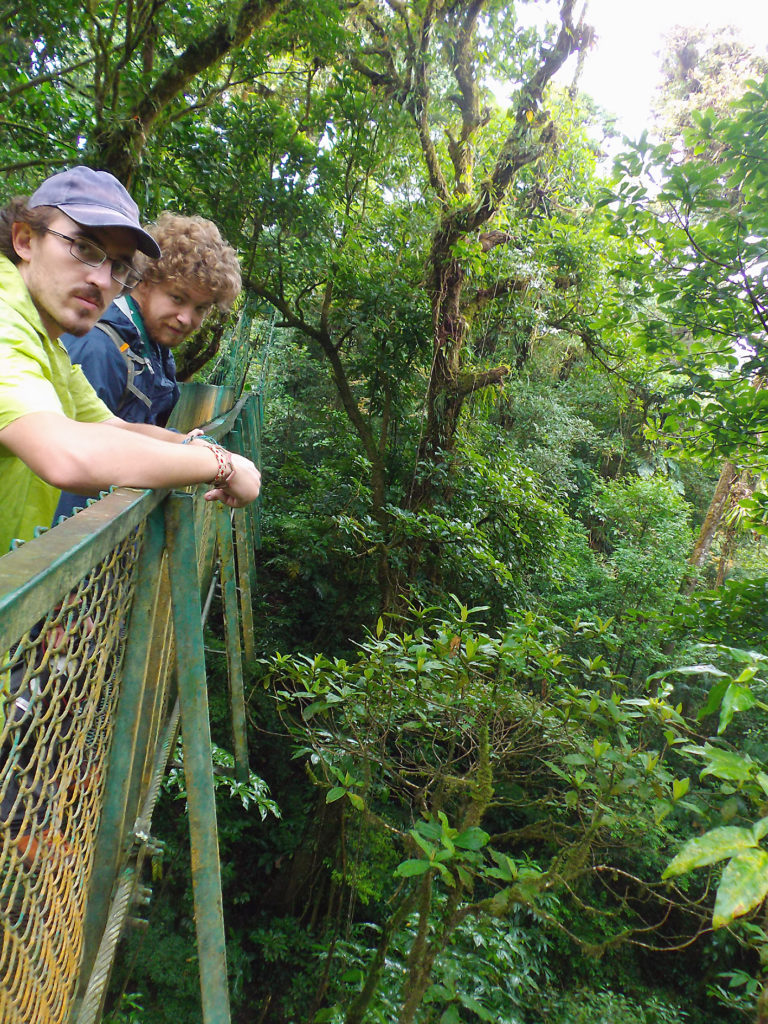 Let's start with the beginning:
In 2010, I was a third-year bachelor student in Lyon (France), and I contacted Dr. Bernard Kaufmann to do an internship on ants, because I was (and still am) really interested in these insects for some obvious/obscure reasons. The same year, Pierre Charrier (first author of the study) was a second-year bachelor student in Lyon, interested in a crazy diversity of topics but especially Hymenoptera. He applied for the same internship. At that time, Bernard Kaufmann was starting to develop research projects to understand the spread of the invasive ant Lasius neglectus in the upper Rhône valley. It was not his first highly polygynous tramp ant experience since he studied population genetics in Argentine ants during his PhD, under the supervision of Luc Passera.
On my first day of internship, I remember arriving at the sampling site (it was on the DOUA campus in Lyon) and meeting Pierre and other interns. We spent the following month baiting ants with honey and tuna, eating a lot of dirt while vacuuming the ants (and not only dirt… "Careful, don't breath the sampling tube's alcohol… too late… Good for you!"), coming back at the lab for sorting and storing the ants, and doing the identifications in the evenings! That is how we learnt how to identify ants! After a few weeks, we were able to name the genus of any ant running at less than two meters from us. We would (try to) go to the species level with a stereomicroscope and Bernhard Seifert's key… and have headaches separating Myrmica scabrinodis from M. specioides and M. sabuleti or Lasius niger from L. platythorax (Pierre still dreams of clypeal pubescence…). That was a lot of fun! More than only sampling and identifying ants, these weeks were rich in discussions and developed our interest about biology and scientific research. It's surely because of this experience that we started to consider making a living of it.
Picutres above: Measuring the Nantes colony in May 2018. Concentrations of workers (left bottom) were often found at the interface between soil and pavement and near trees (above and right bottom). The delicate task of sampling ants in urbanized areas: it makes you hate dogs… (above: J. Gippet (left) and M. Charrier (right)). (© N.P. Charrier)
I think this little story explains why, 6 years later (in 2016), I was visiting Pierre in Nantes (where he was doing his PhD) and how, on our way between visiting a giant-mechanical-elephant and finding cold beers, we froze on a little ant walking on an old wall next to the sidewalk. None of us saw Argentine ants more than on one or two occasions before, so our surprise was more of not being able to mentally say: "Lasius!" or "Tapinoma!". We took a closer look at it and quickly agreed that the most plausible default species was Linepithema humile.
Between May 2016 and May 2019, we used our free time and holidays to work on this side project. I defended my PhD on urban ecology and invasions (co-supervised by Bernard Kaufmann and Nathalie Mondy) in Lyon in December 2016 and Pierre defended his on ticks' biology in Nantes in December 2018 (supervised by Claude Rispe). Our working topics are completely different, we were busy with our respective PhD projects and separated, most of the time, by more than a thousand kilometers. This observation was an opportunity to maintain a connection despite the difficulty it can be to keep links with friends or even family when you aim for a scientific career that demands continuous commitment and makes you move away every two to five years at national to international scale.
But sometimes it is good to know that things can also go the other way around: if it wasn't for friendship, this Argentine ant population would have stayed undetected and this, although modest, contribution to science inexistent.