Ants of Hong Kong, SAR, China
Reading Time:
9
minutes
The special administrative regions of Hong Kong and Macau are located in South-East Asia. Despite containing large cities and virtually no primary forest, both regions harbor a diverse arthropod fauna. François Brassard spent the past eight months exploring them and found a rich ant diversity within. This is an account of some of the fascinating species and genera he managed to photograph.
A Photoblog compilation by François Brassard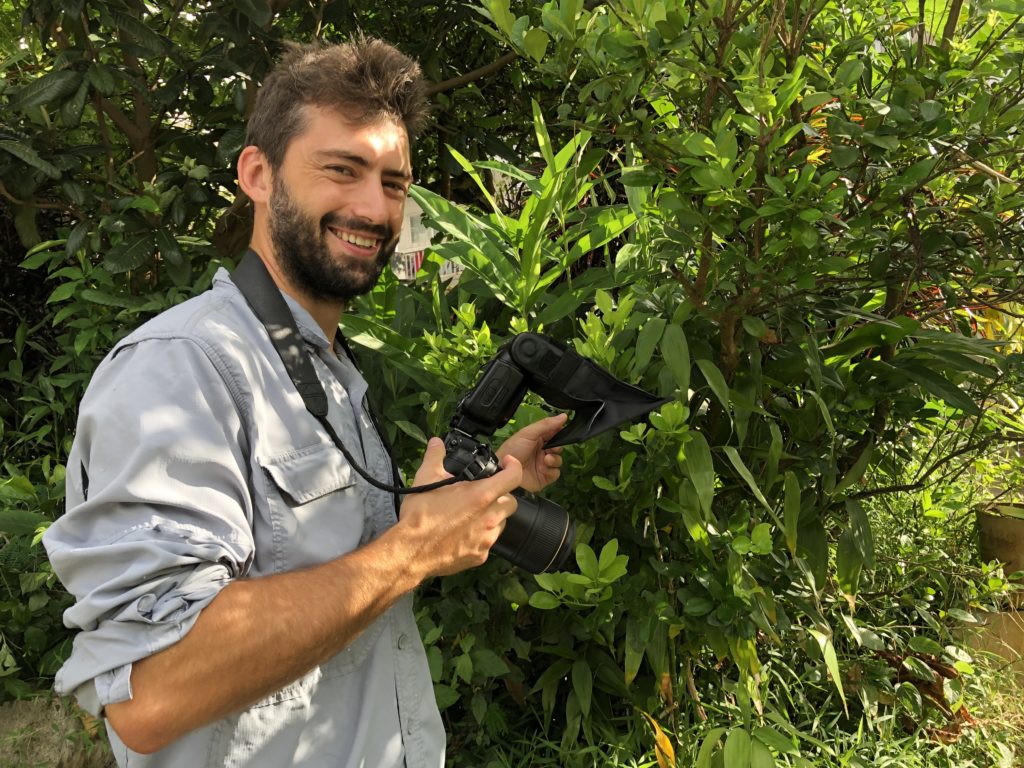 Subfamily : Amblyoponinae
This odd-looking ant is a worker of Stigmatomma rothneyi, from the Amblyoponinae subfamily. Stranger than their looks are the behaviors of these ants. Indeed, they are commonly called Dracula ants, because their queens feed on the hemolymph of their own larvae. They also mainly prey on centipedes, an unusual food choice for ants. I photographed this individual at the Insect Biodiversity and Biogeography Lab (IBBL) where I currently work.
Subfamily : Dorylinae
The genus Aenictus comprises more than 200 "army ant" species. They are so-called because of their propensity to hunt other ants. They also lead a nomadic lifestyle (i.e. their nests are bivouacs that move every few weeks). Runxi Wang and Roy Cheung these individuals among a large foraging trail.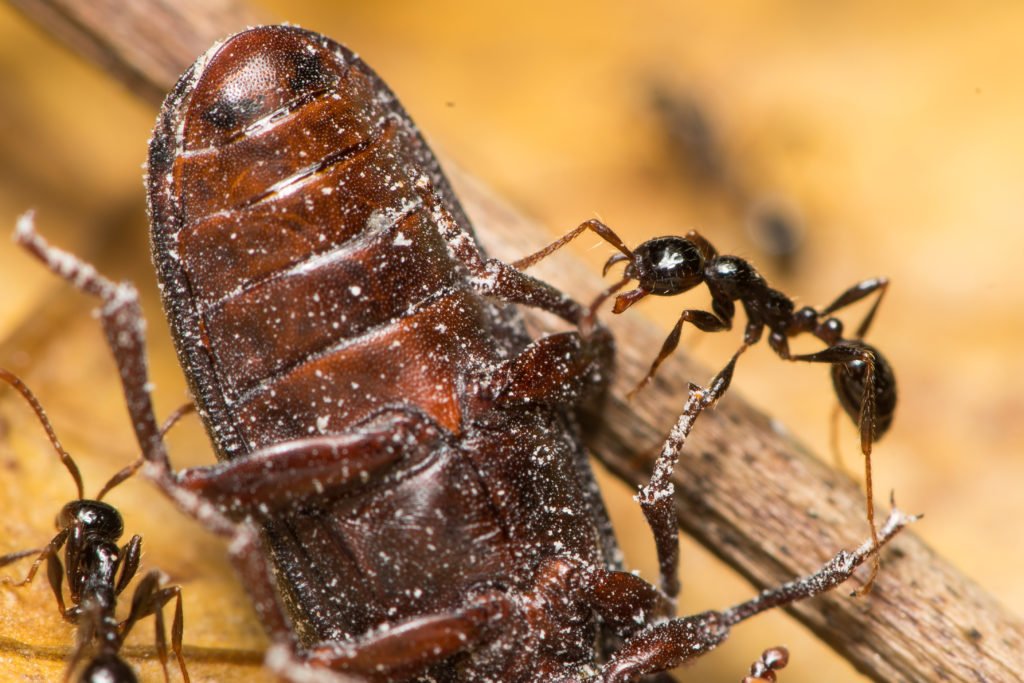 Driver ants (Dorylus sp.) have a reputation for making impressive swarms typical of army ants. However, many species in this genus are hypogaeic (i.e. subterranean) and rarely seen. This is the case of D. orientalis, the only member of Dorylus known to inhabit Hong Kong.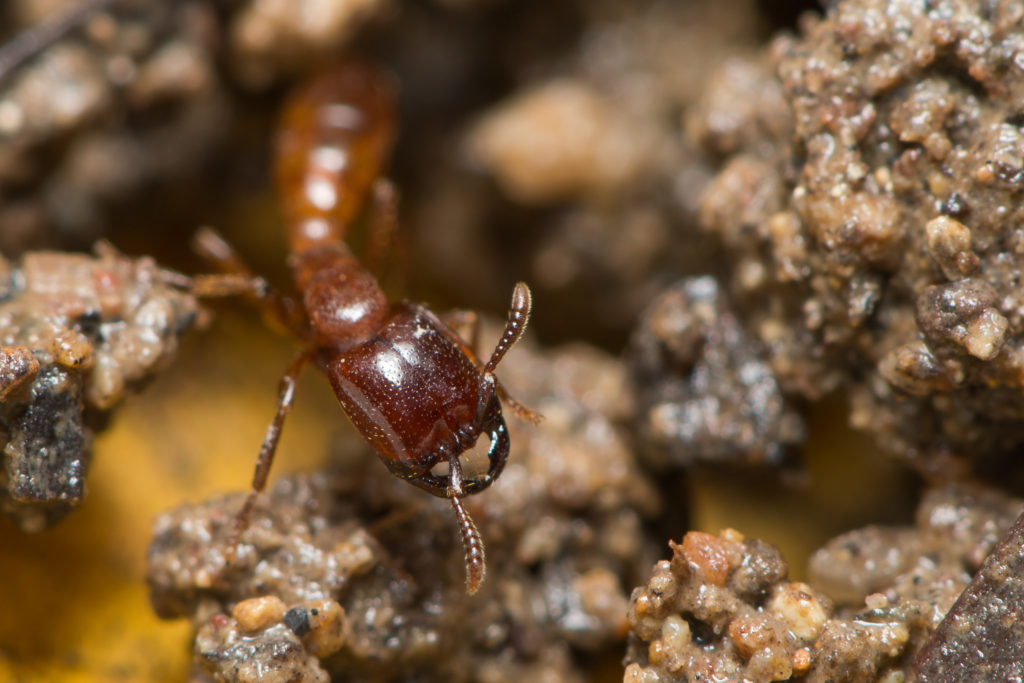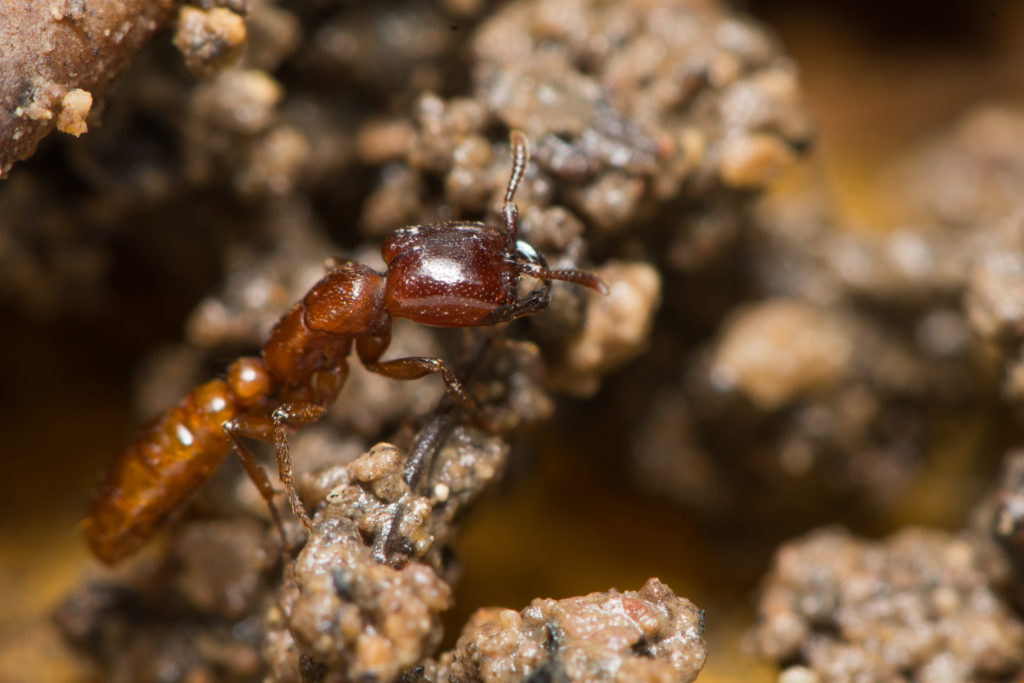 The clonal raider ant (Ooceraea biroi) is a rarely noticed subterranean ant. However, this tramp species is now widely distributed across the world's tropics. This is perhaps because every worker within a colony can produce viable diploid eggs. As a result, any colony fragment may give rise to a new population when transplanted elsewhere.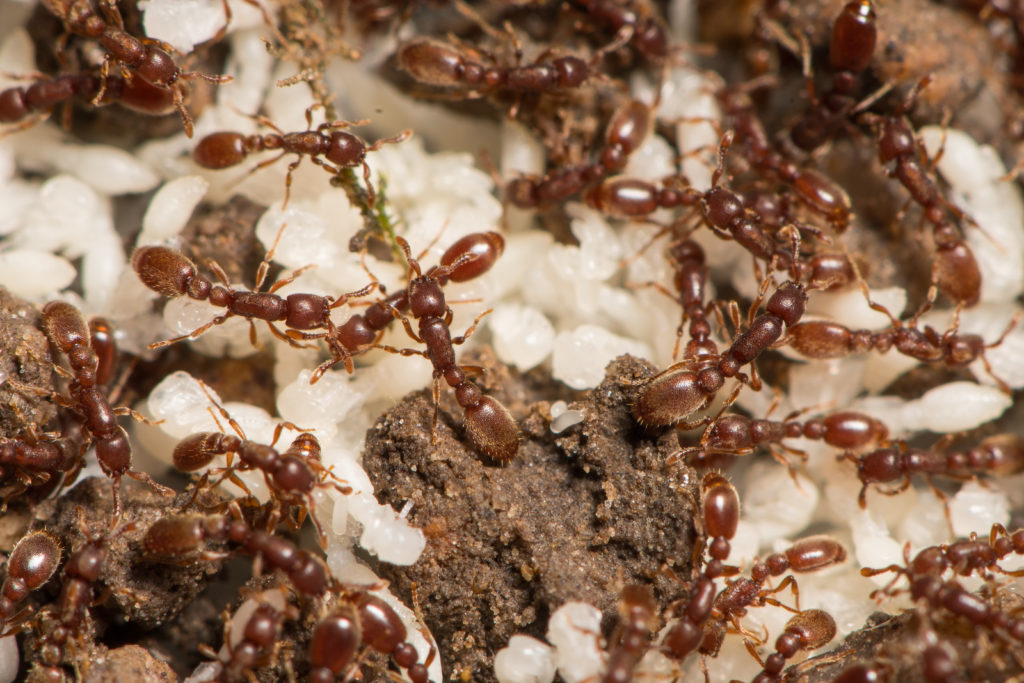 Subfamily: Dolichoderinae
Ants in the genus Dolichoderus look like their petiole and propodeum form a bottle opener (see photo below). I found this arboreal species (D. sibiricus) nesting in the trunk of a live tree.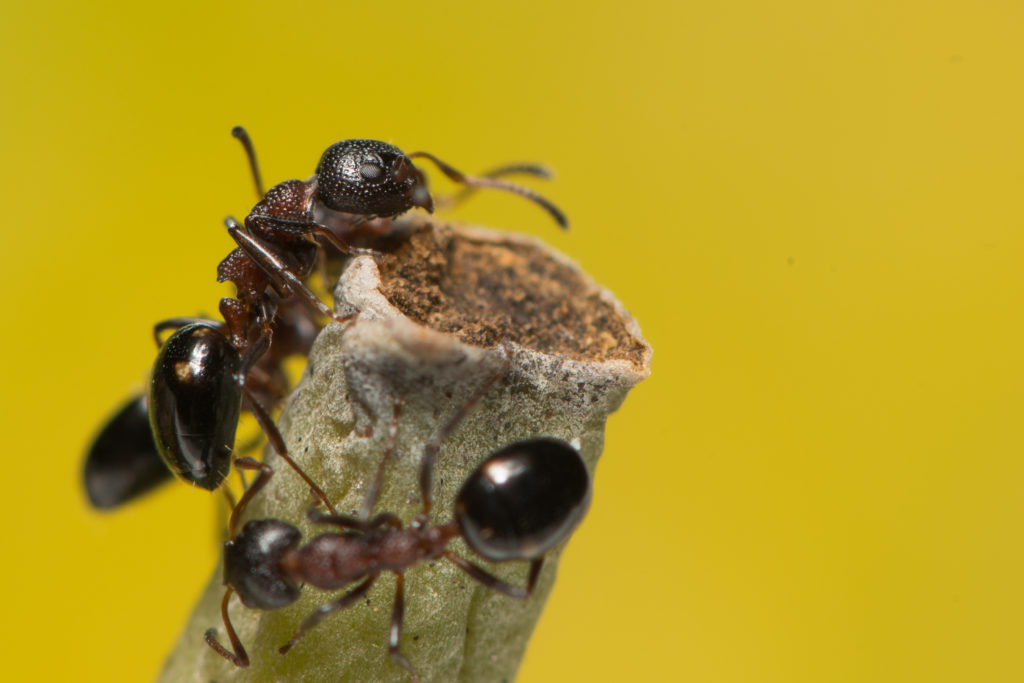 The ghost ant (Tapinoma melanocephalum) is a widespread pest, so much so that most tropical and subtropical regions now harbor this species. I even found workers foraging indoors in the middle of the Canadian winter. Nevertheless, in Hong Kong, they are a native species. Pictured below are workers transporting brood during a colony emigration. The pale individuals are callow workers that recently started their adult lives.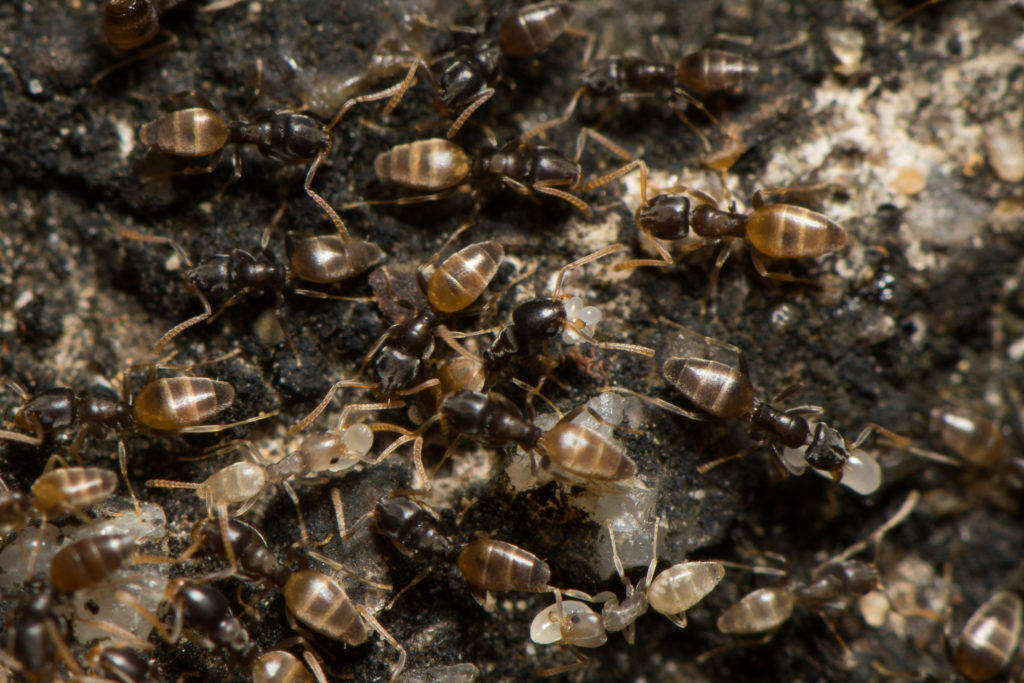 Subfamily: Formicinae
Yellow crazy ants (Anoplolepis gracilipes), classified as one of the 100 worst invasive species, are infamous for invading and completely disrupting the ecosystems of Christmas Island. The origin of this now widespread species is still unknown. Whether it is native or not in Hong Kong, this species is a conspicuous part of the local fauna.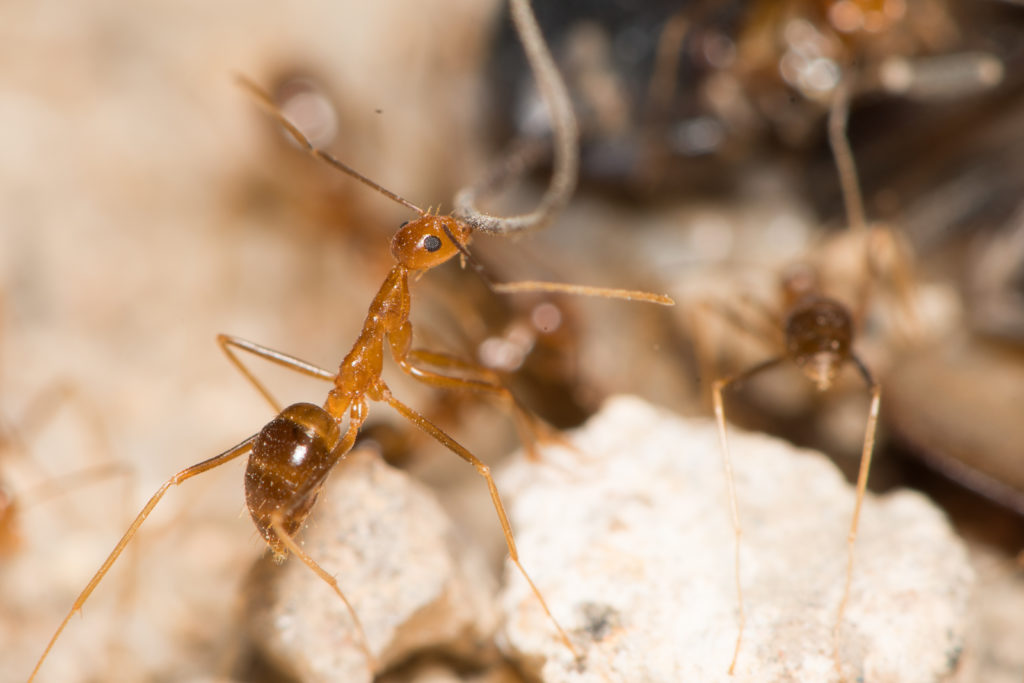 A diversity of plants have extrafloral nectaries (EFN) that produce sugary liquids. A wide range of ant species (here a worker of Camponotus nicobarensis) exploit these carbohydrates. Ants will ferociously defend this valuable resource and will attack almost any intruder found on the plant. As such, the ants and the plant form a mutualistic partnership where they exchange food for protection services.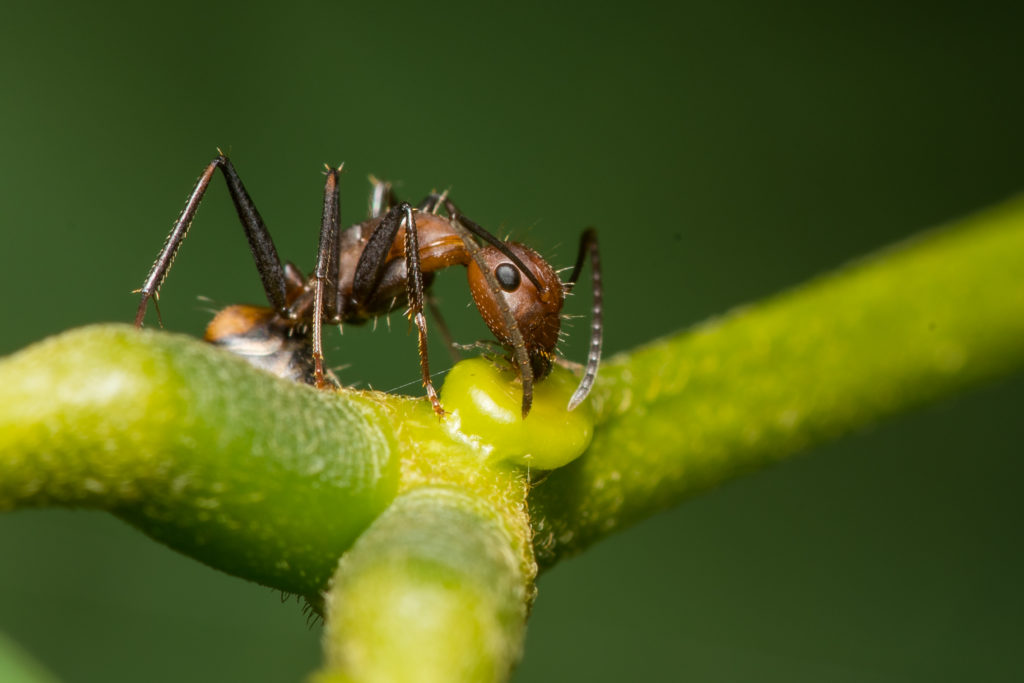 The genus Camponotus is cosmopolitan and has more than a 1000 described species. Coming from Canada, where ant diversity is relatively low, Camponotus was one of the only Southeast Asian genera familiar to me. Some local species even look fairly similar to Canadian carpenter ants. Pictured here is a C. vitiosus gyne found in a mangrove.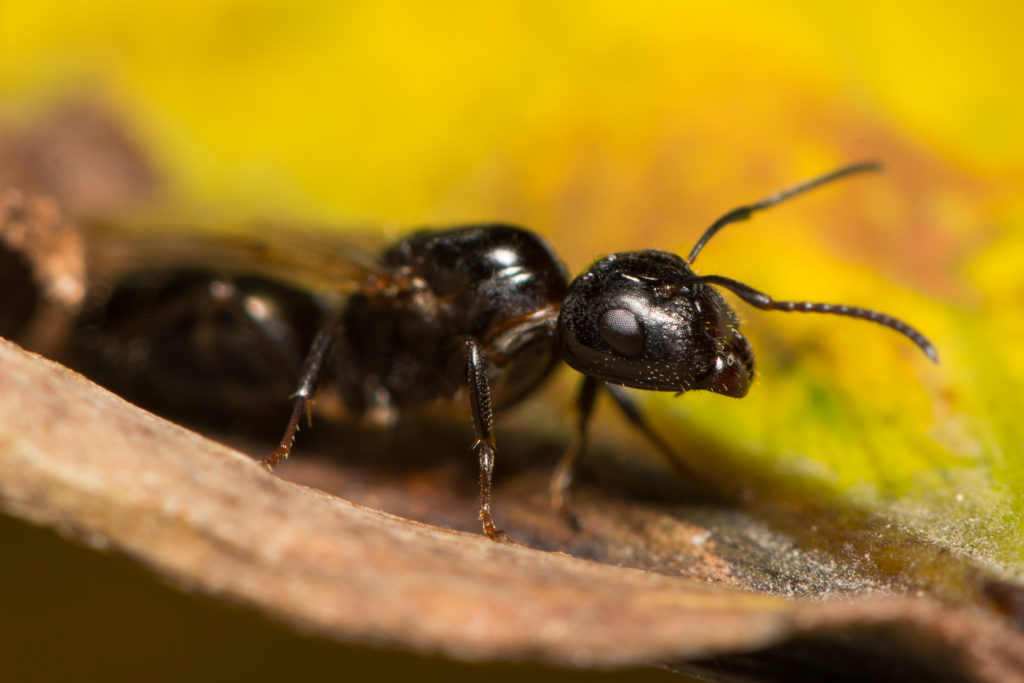 Gesomyrmex are arboreal ants within the Formicinae subfamily. The few species within the genus are rarely encountered, but fortunately, my colleague Mark Wong has repeatedly found colonies of G. howardi. These ants show a strong polymorphism among castes, with striking size and shape differences between workers, soldiers, and supermajors.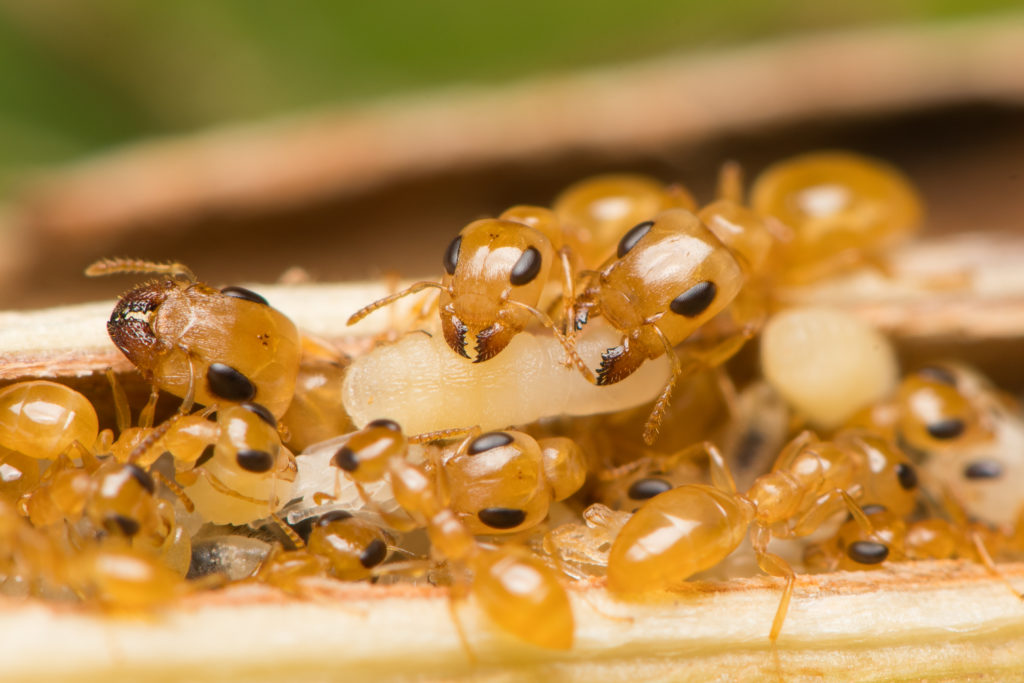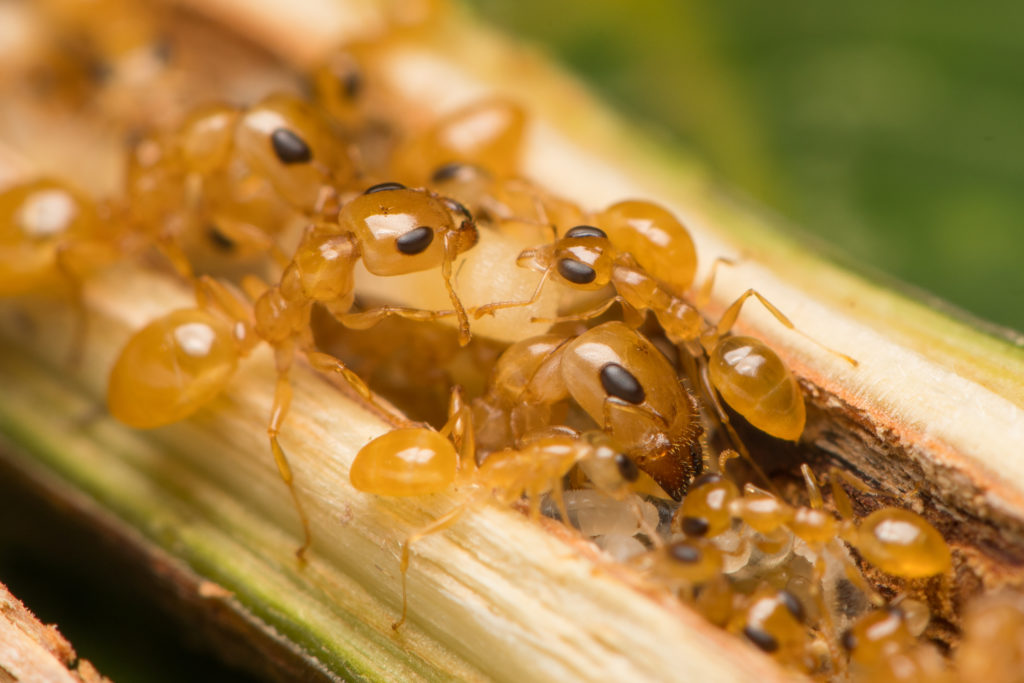 Weaver ants (Oecophylla) form large arboreal colonies. They make their nests by binding leaves together with larval silk. The species found in the Oriental and Indo-Australian region is O. smaragdina, whereas O. longinoda inhabits Africa.
The charismatic spiny ants (Polyrhachis)are a key element of the arboreal ant fauna in Hong Kong. This small species, P. demanguei, has relatively small spines compared to its larger counterparts. You can nevertheless observe small spines on the propodeum of the queen and worker pictured below.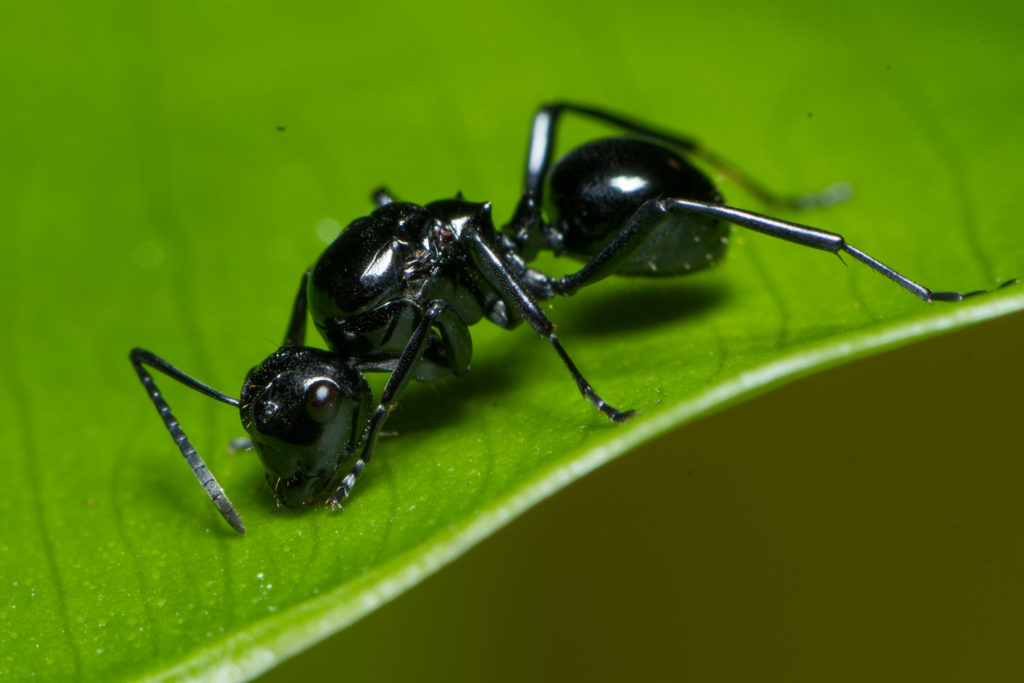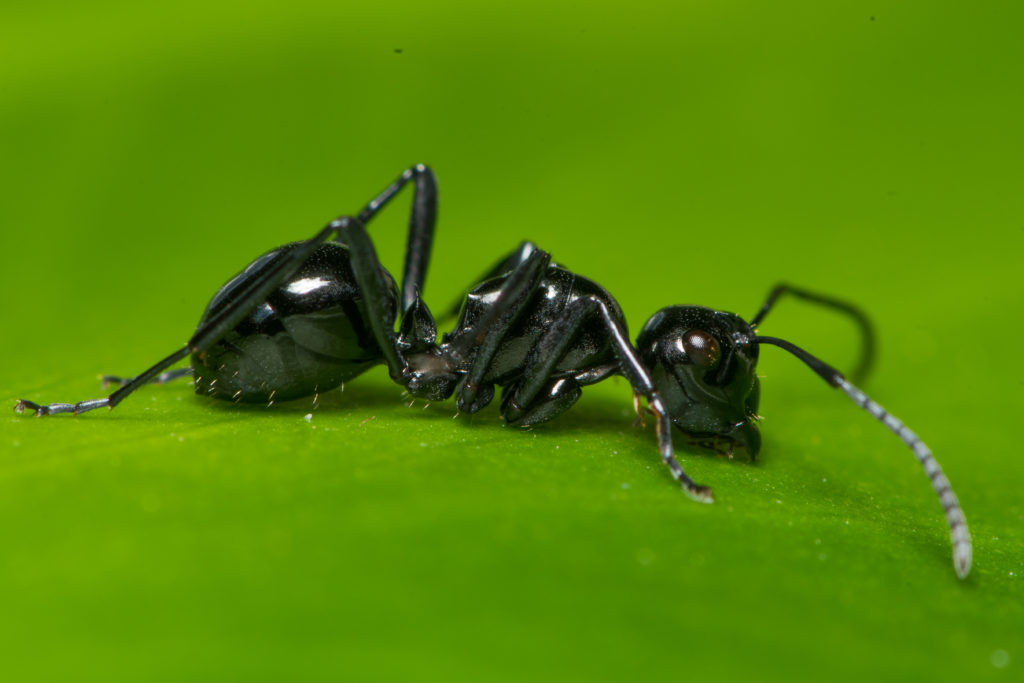 Ants oftentimes form mutualistic relationships with trophobionts such as aphids. Aphids provide ants with honeydew, whereas ants protect aphids against their predators. The following pictures exemplify both behaviors as Polyrhachis workers tend pine aphids, and defend them against a potential threat (i.e. the presence of a human photographer).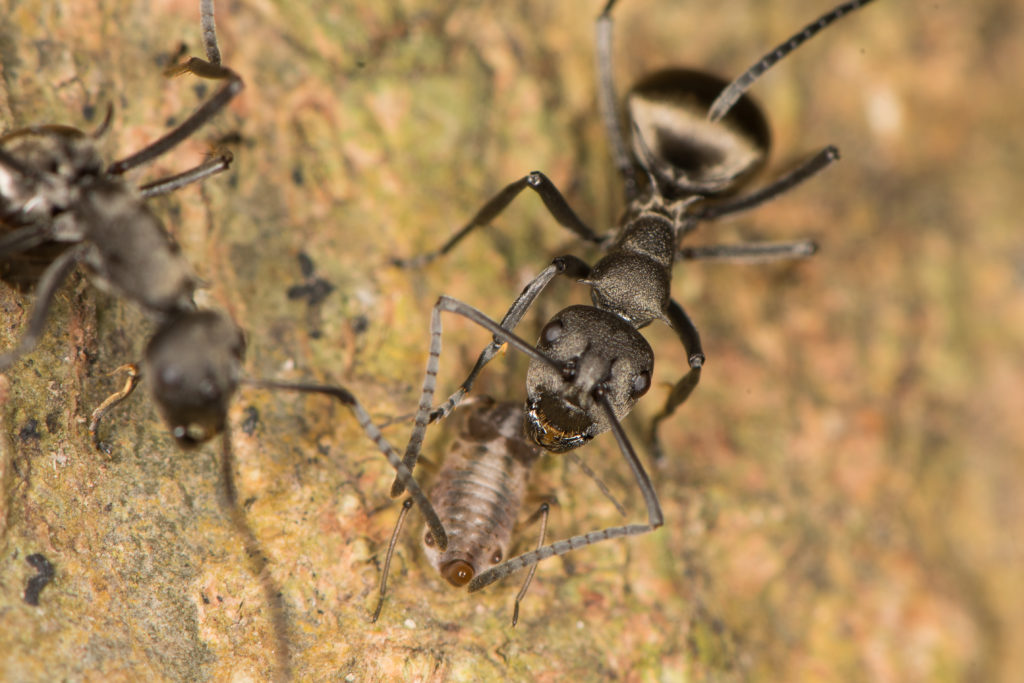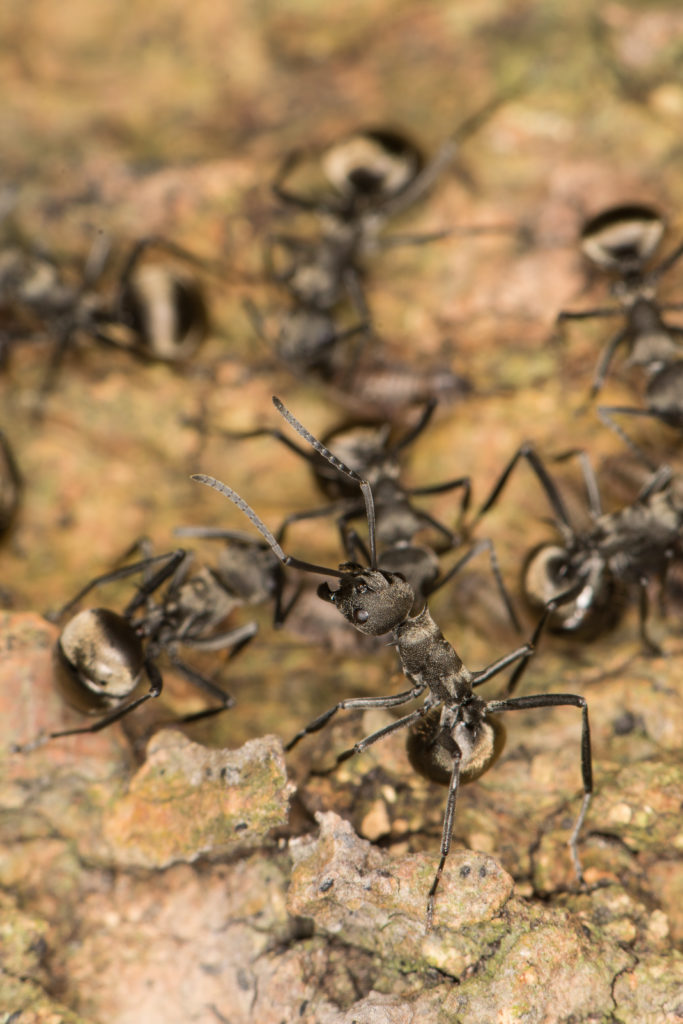 Subfamily: Ectatomminae
The sole member of the Ectatomminae subfamily found in Hong Kong, Gnamptogenys bicolor, is a sight to behold. I personally find its pock-marked sculpturing and cleaver-like mandibles especially intriguing.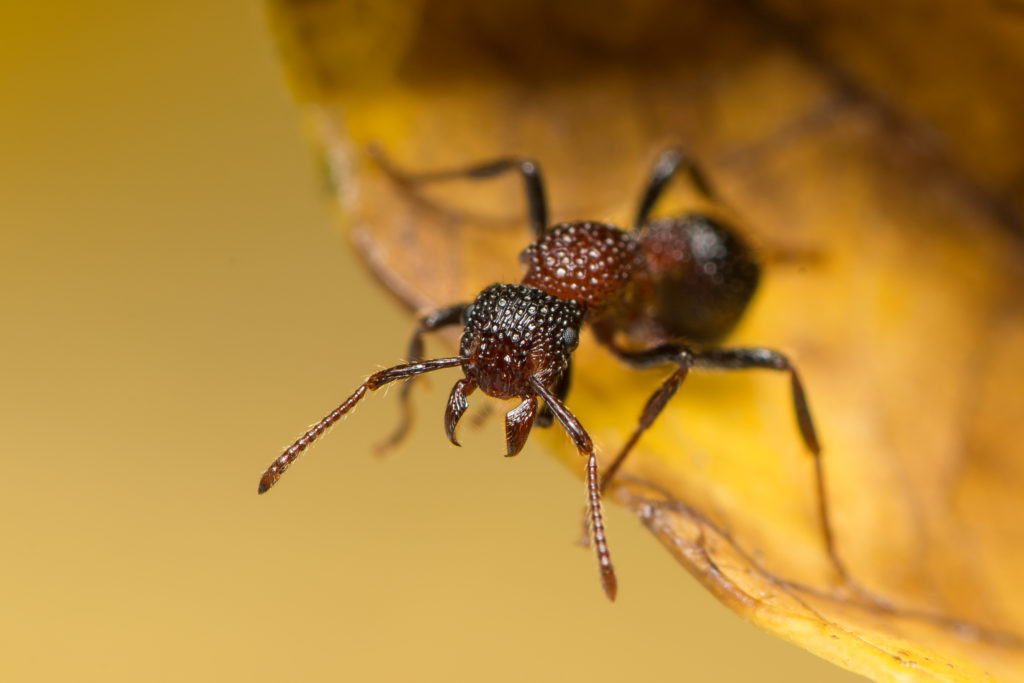 Subfamily: Myrmicinae
When I moved to Hong Kong, I (of course) made a checklist of the ant genera I hoped to see during my time there. Cataulacus, with their heavily armored cuticle and arboreal habits, ranked high on that list. However, these ants are known to be patchily distributed, and I could not find them despite looking for months. That is until I strolled into a patch of forest, very close to my home, where I quickly found dozens of C. granulatus. These ants are still poorly known, but all are arboreal. Well adapted to life in the canopy, workers of some species can even glide back to the trunk of their tree when falling off a branch.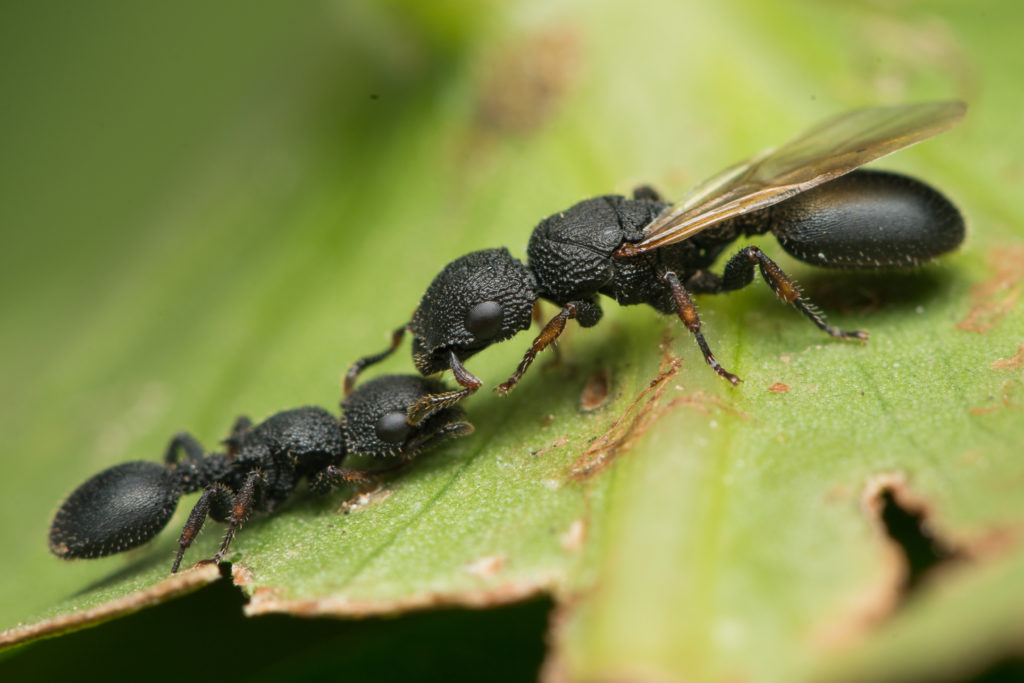 Marauder ant species in the genus Carebara have workers so polymorphic that you would not expect them to be from the same species. The morphological differences between workers and queens are also substantial. Indeed, some Carebara spp. have some of the largest size differences between queens and minor workers, which look minuscule compared to their mother. I recently got lucky in finding this impressive gyne.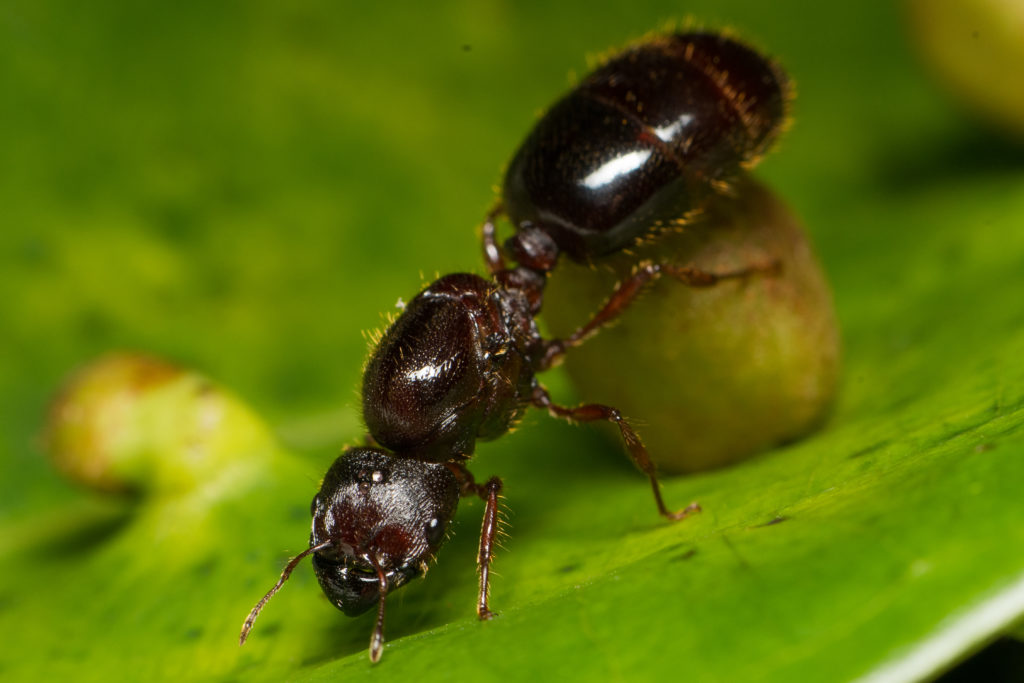 In myrmecology, we employ the term "phragmotic" to design a morphological structure allowing an ant to block its nest entrance. A classic example is the phragmotic head of turtle ant workers. Interestingly, in some species it is not the workers, but the queens that have this specialized trait. This is the case for Crematogaster cylindriceps, photographed here while they were resting on a nest fragment.
Both of these Crematogaster species were living on mangrove trees. The first photo showcases workers tending scale insects, whereas the second shows a worker about to evacuate a larva after I disturbed their nest.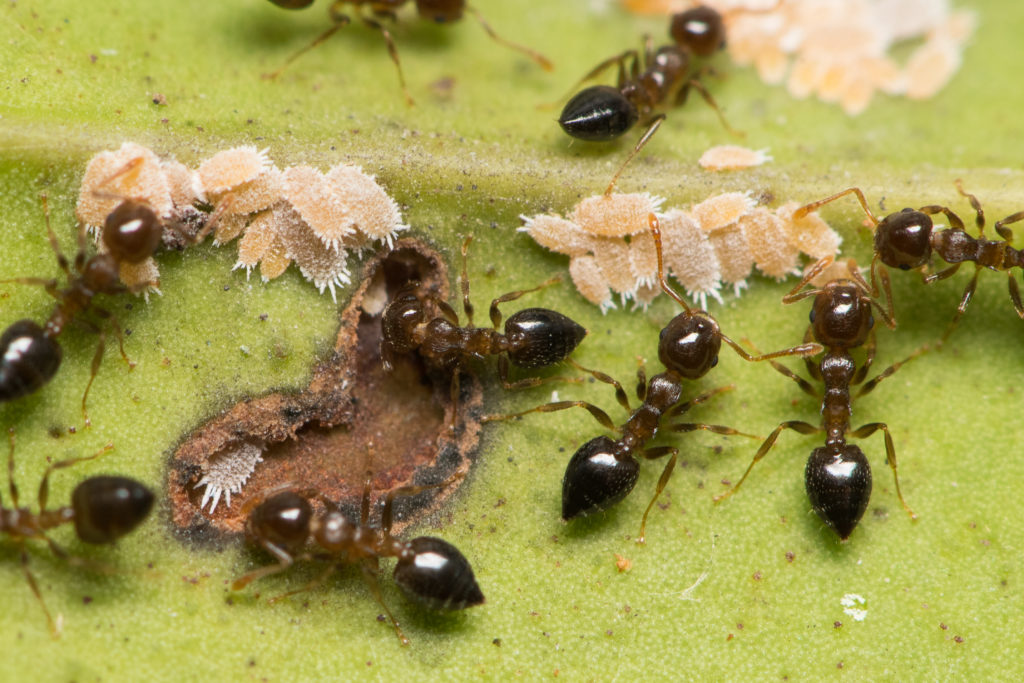 Ants belonging to the genus Dilobocondyla are arboreal. They are rarely encountered and, if so, usually as single foragers. However, Mark Wong found multiple nests of D. fouqueti, which allowed me to photograph workers interacting with one another, as well as males and gynes. Notice their enlarged femurs, which presumably give them a stronger grip. It may be circumstantial evidence, but it sure feels that way when trying to pick them up with forceps!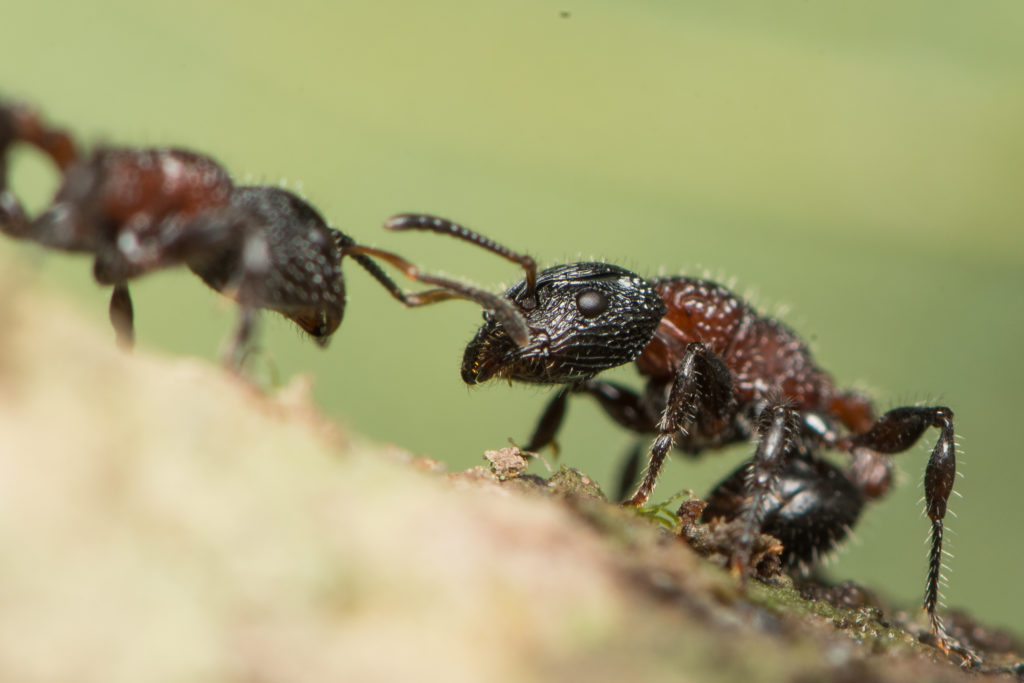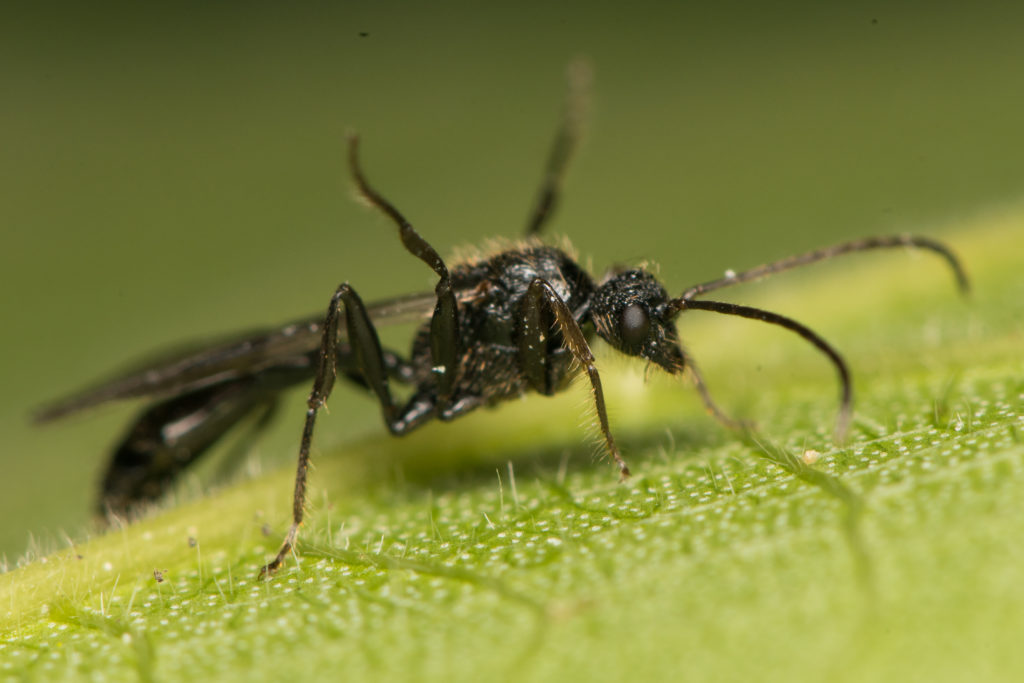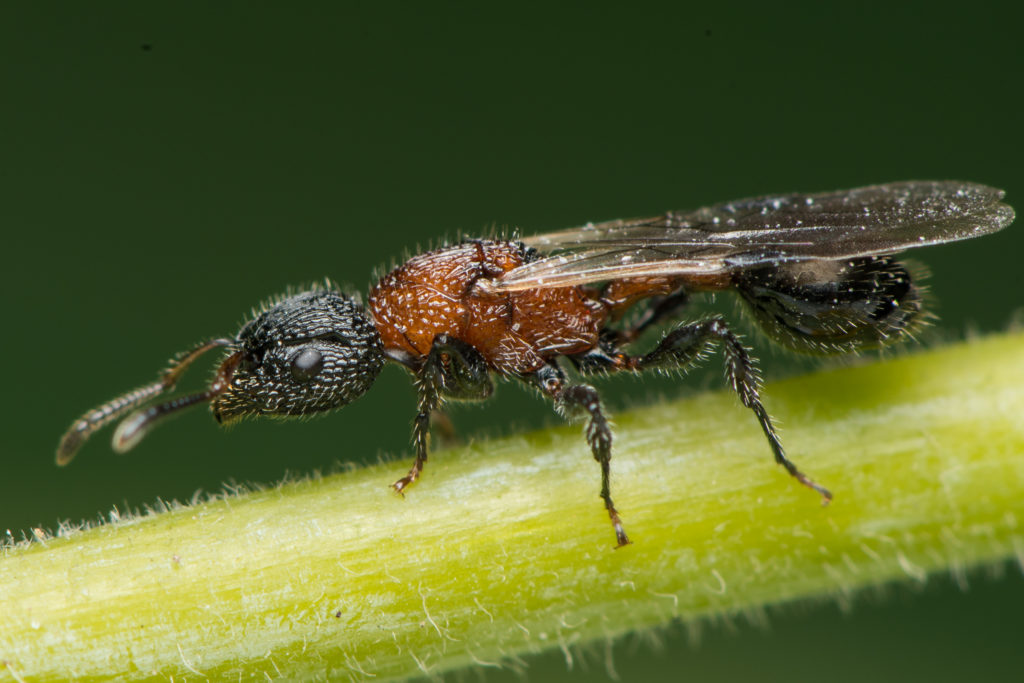 The species Paratopula bauhinia (Luo & Guénard 2016) was recently described in Hong Kong and named after its flower emblem. Thought to be nocturnal and arboreal, Paratopula species are elusive, and at the time of its description, only a few workers of P. bauhinia had been found. This picture portrays the first record of a queen, also collected by the main author of the original description (Ying Luo).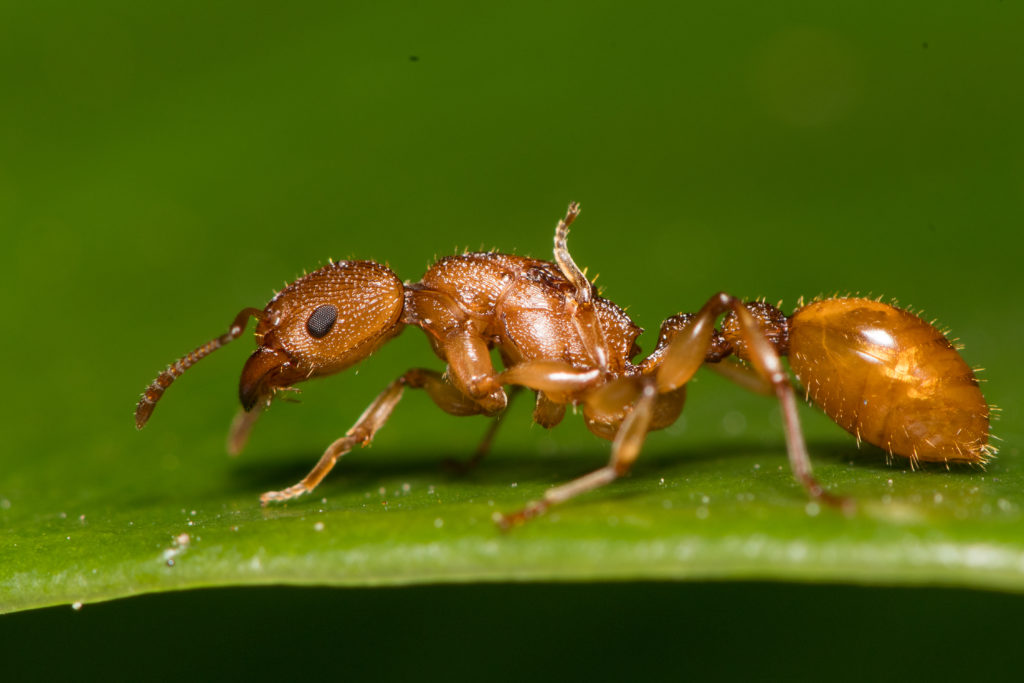 Ants play a major role in decomposition, and it can be said that they are stellar garbage collectors in most terrestrial ecosystems. I found this to be especially true in Asia, where virtually every carcass I encountered, fresh or not, inevitably had a myriad of ants busy taking it apart. Below are workers of Pheidole spp.on various roadkills. Notice the enlarged head of the majors, characteristic of the Pheidole genus.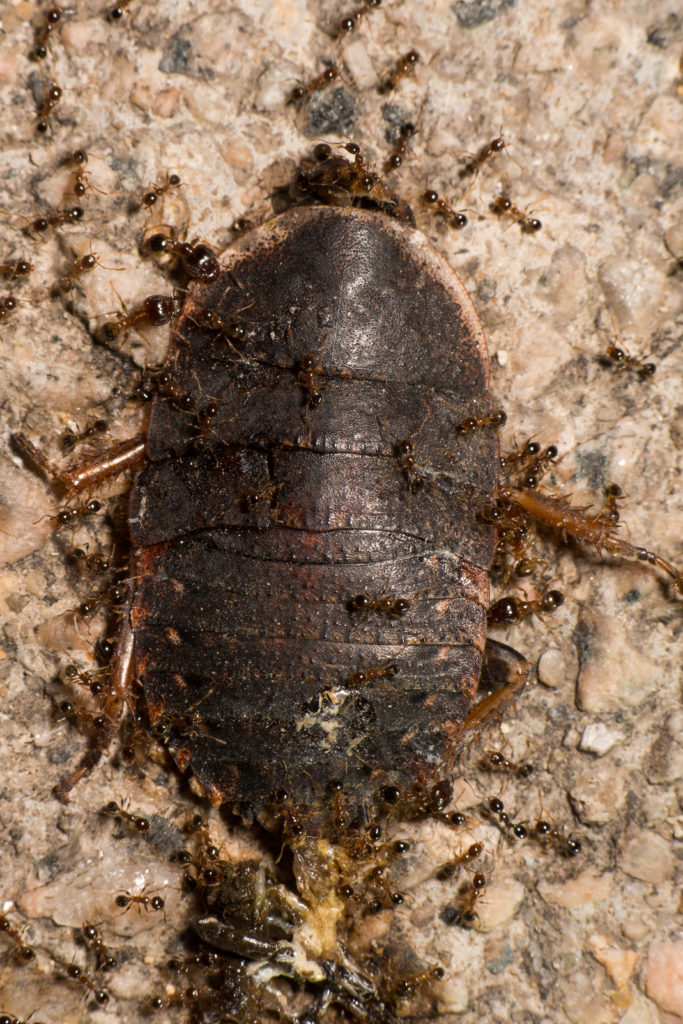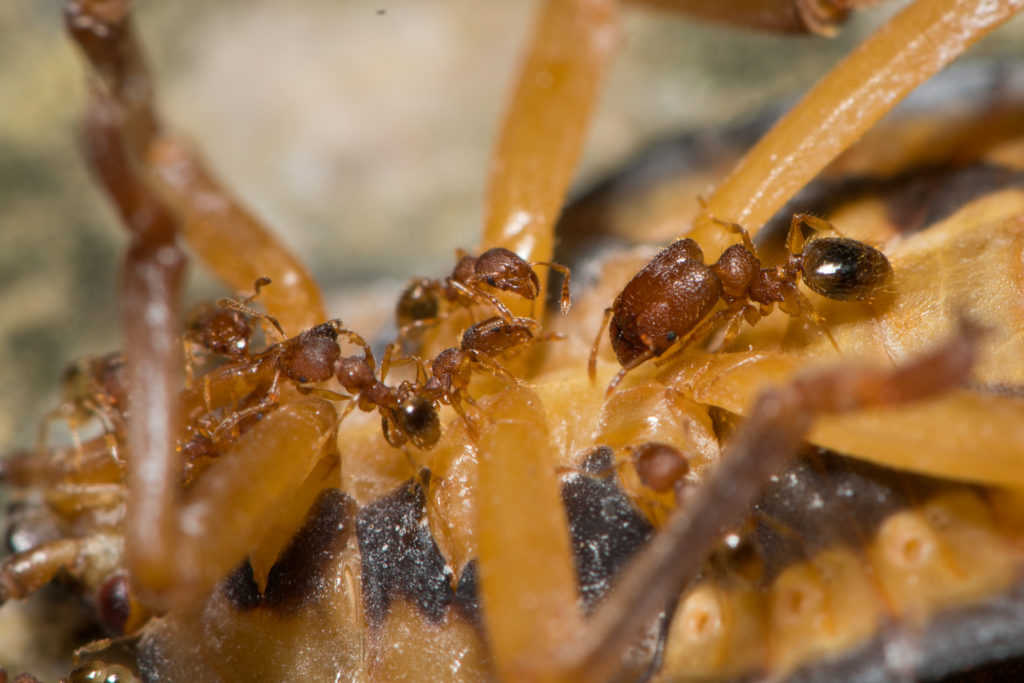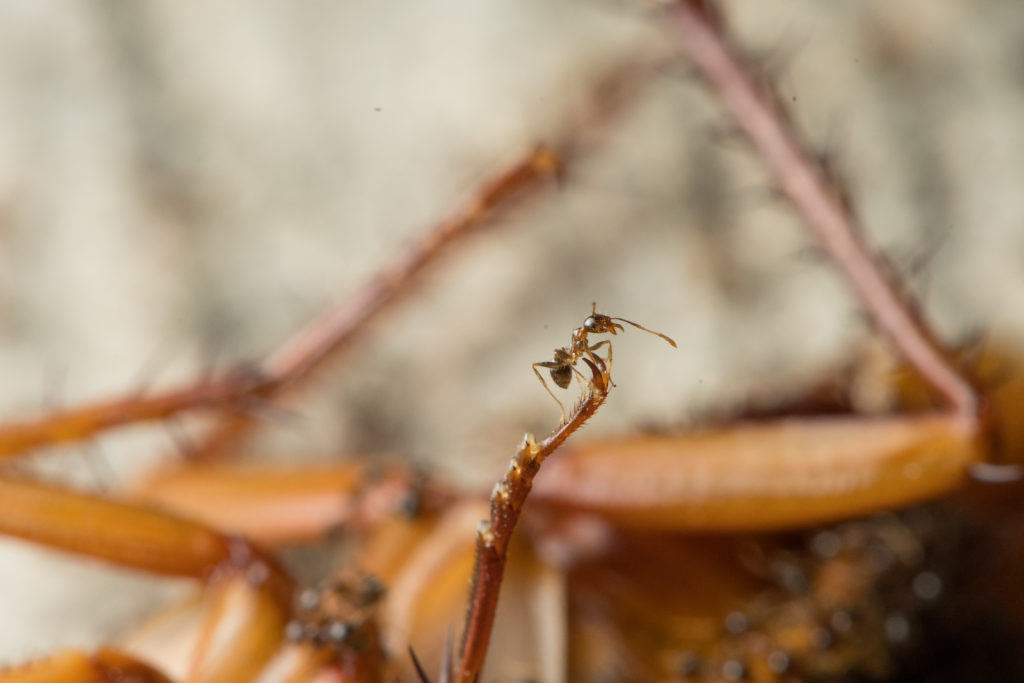 For most organisms, entering an ant colony uninvited is a bad idea. Indeed, ants guard their colonies aggressively against intruders. However, any species adapted to break through these barriers enters a relatively safe haven (mostly) free of predators. This armoured beetle in a fire ant colony (Solenopsis invicta) seems to be such a species. It moved unconstrained among its bellicose roommates, and simply curled up for a short time whenever it was attacked.
Before a queen ant founds a colony, she will typically accomplish a nuptial flight during which she will mate with males. In fire ants (S. invicta), this flight may happen at heights of more than 100 meters. Queens thus rise to great heights to mate, only to then dig themselves underground, never to come up again.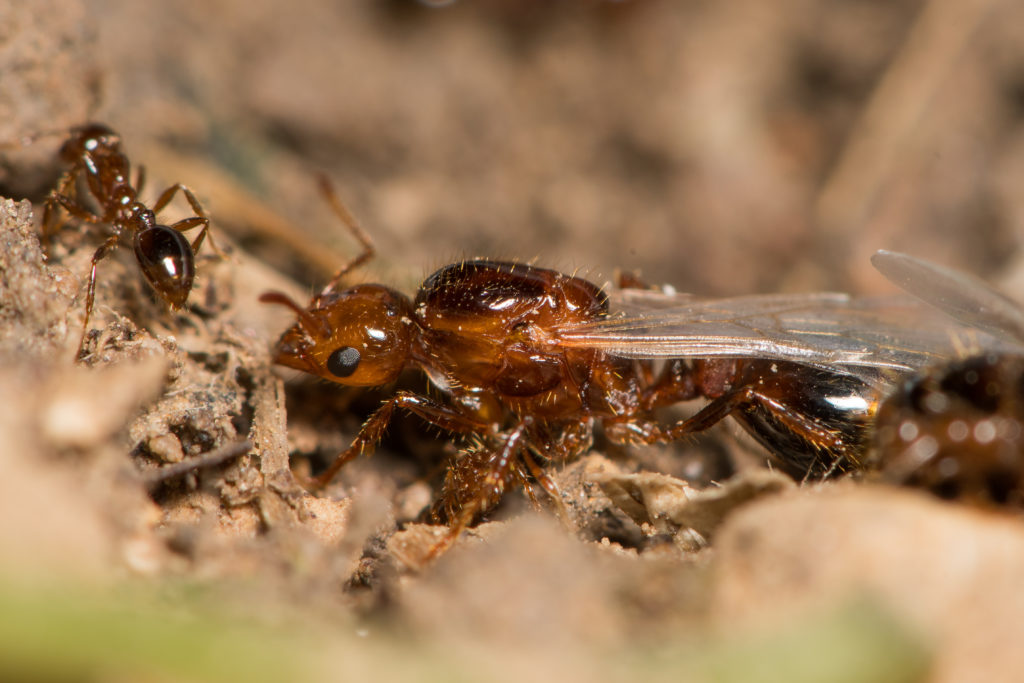 Male ants, such as this fire ant specimen (S. invicta), have one main role in a colony; reproduction. Indeed, they serve few if any other purposes. Accordingly, they have large wing muscles (for their nuptial flight) and reduced mouthparts.
This large Camponotus mitis major was no match for its fire ant opponents. Despite slaying multiple assailants with its mandible, the fire ants finally overtook the C. mitis major with their sheer number.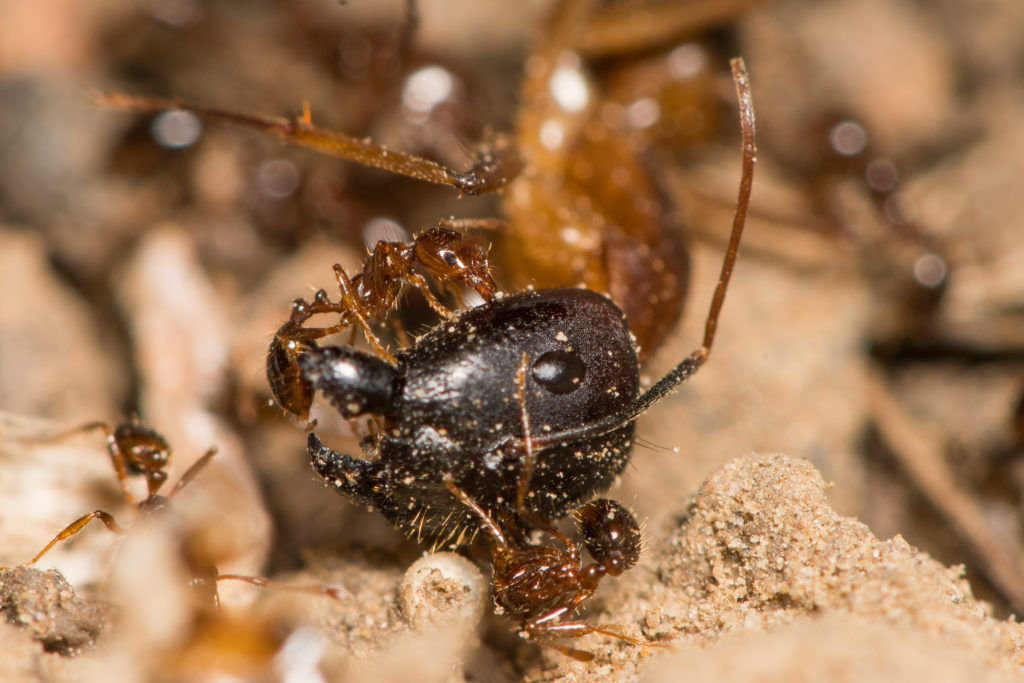 You can find hundreds of species of Strumigenys across the world's tropical and subtropical areas. They are very common, as most samples of leaf litter seem to yield at least a few workers. However, they are rarely seen because of how minute and discreet they are. It was thus a pleasure to find a colony of S. minutula inside a nest left outdoors for a few weeks. If you look closely, you will notice the enlarged and square-shaped mesosoma of the queen.
I found this Tetramorium sp. gyne close to a beach while she was looking for a suitable nest site. The genus Tetramorium is widespread in the Old World, but curiously almost absent from the New World.
Subfamily: Ponerinae
Trap-jaw ants have peculiar mandibles to catch their prey. They act in a similar fashion as to a mousetrap, which suddenly closes once triggered. However, in ants, the trigger consists of a pair of hairs (see photo below), whereas the trap is the pair of mandibles snapping shut. This unusual morphology and behavior evolved at least four times across ant subfamilies. My field assistant Siu Yiu found this beautiful specimen of Anochetus risii.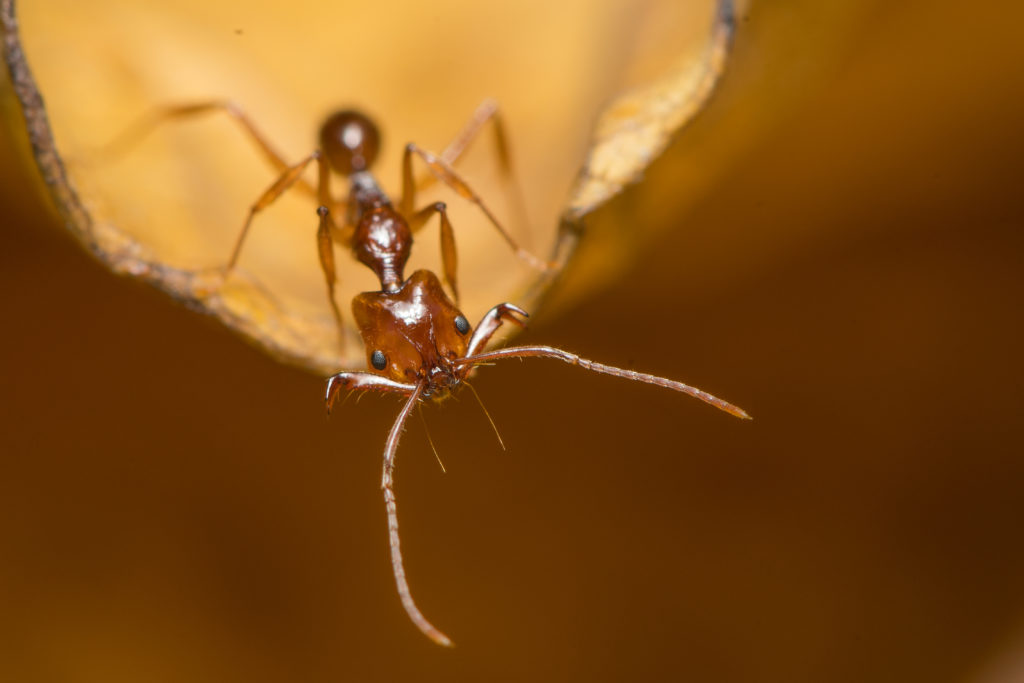 Ants in the genus Diacamma do not have true queens. Instead, the females of a nest compete to determine which one will be the main egg-layer.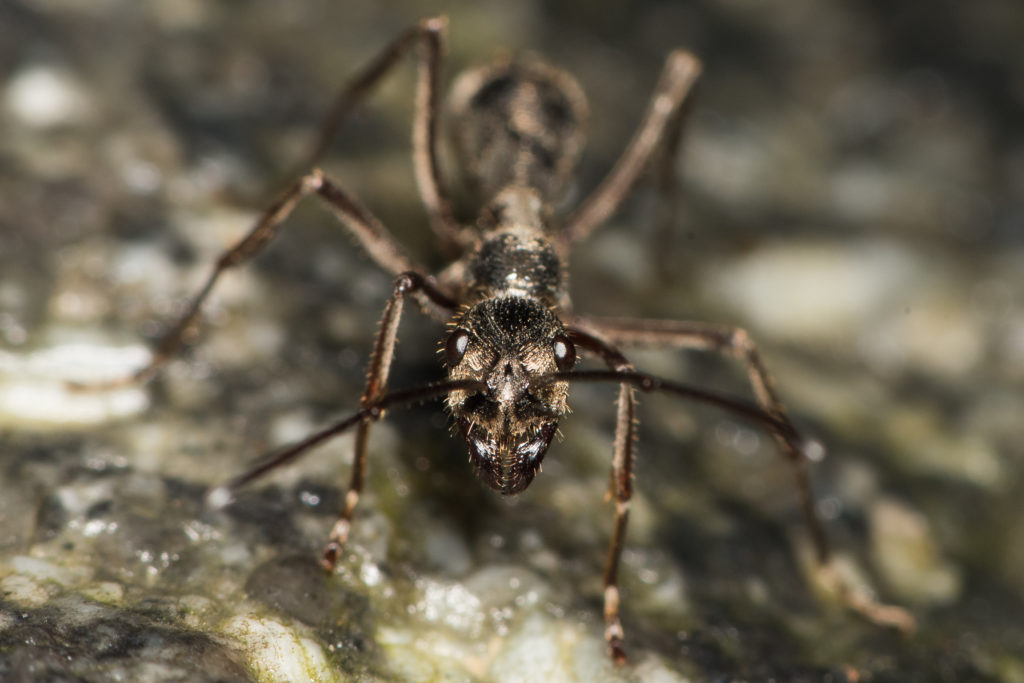 I was thrilled to find a queen of the Asian jumping ant Harpegnathos venator. I have so far only had a few encounters with this species, but each one was exciting. The impressive size, disproportionately large eyes, and jumping ability of Harpegnathos make them one of the most unique ant genus, perhaps only rivaled by the Australian genus Myrmecia.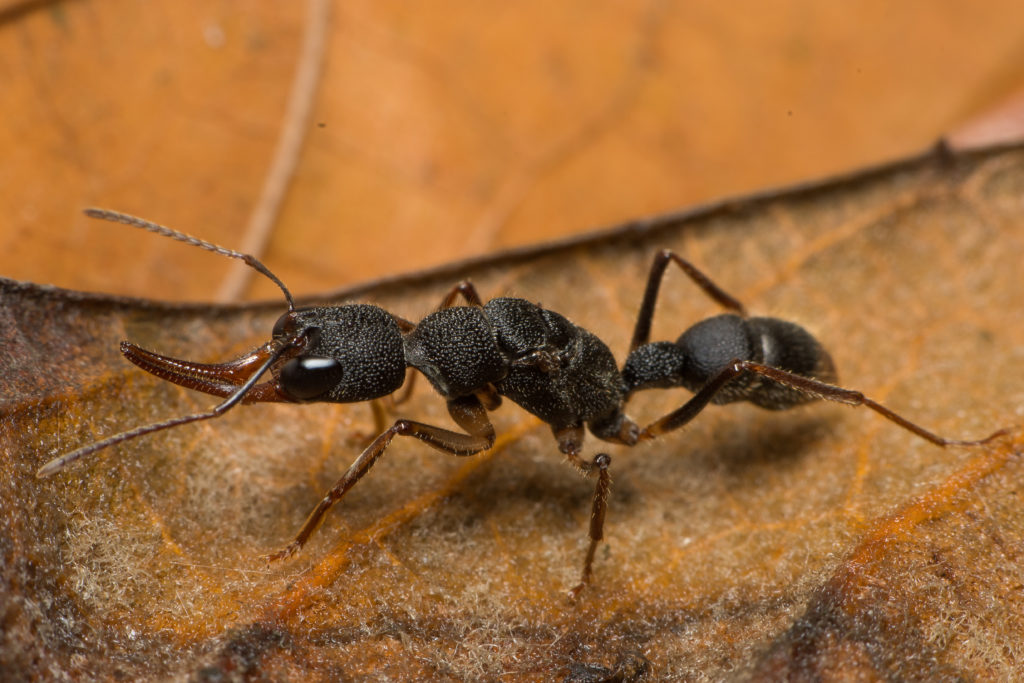 Ants of the genus Hypoponera are cryptobiotic, which makes them appear less conspicuous than what they truly are. In fact, the genus has an almost worldwide distribution, and leaf litter samples often yield Hypoponera workers. The reproductive strategies of these ants are varied. Arguably the most remarkable one is that some species have both winged and ergatoid males (i.e. males that have a morphology similar to workers). These ergatoid males stay inside their natal colonies and have deadly fights with their own brothers to gain the chance to mate with virgin queens. Below is a photo of a gyne, found on top of our University's building, probably blown off-course during her nuptial flight.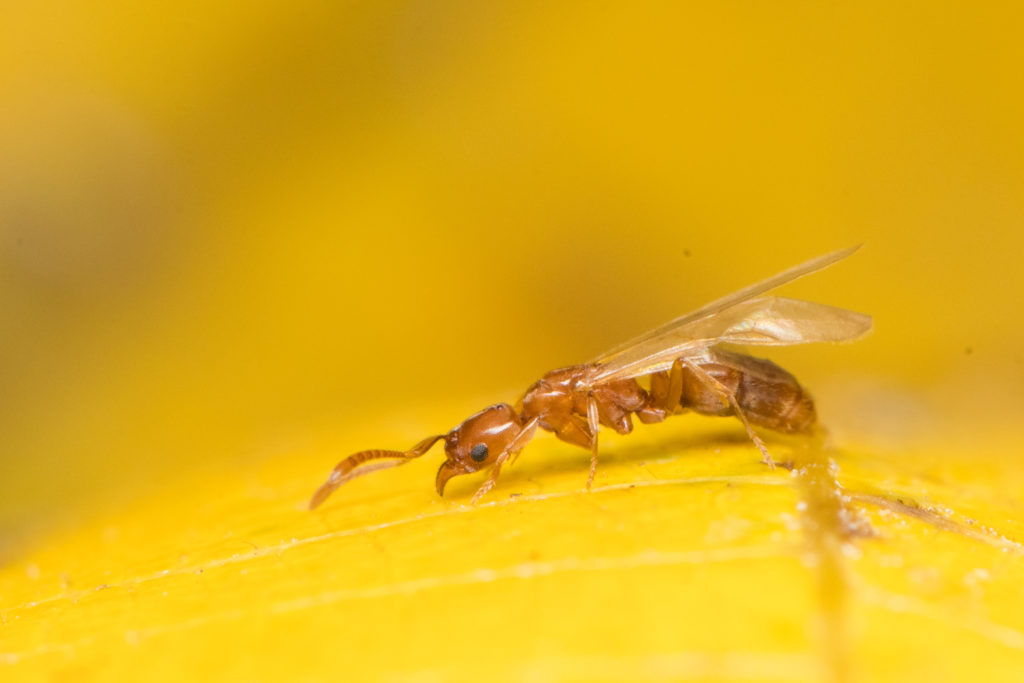 With over 260 species currently described, Leptogenys is the most diverse genus in the subfamily Ponerinae. Some of these slick-looking ants have specialized mandibles adapted to prey on isopods and amphipods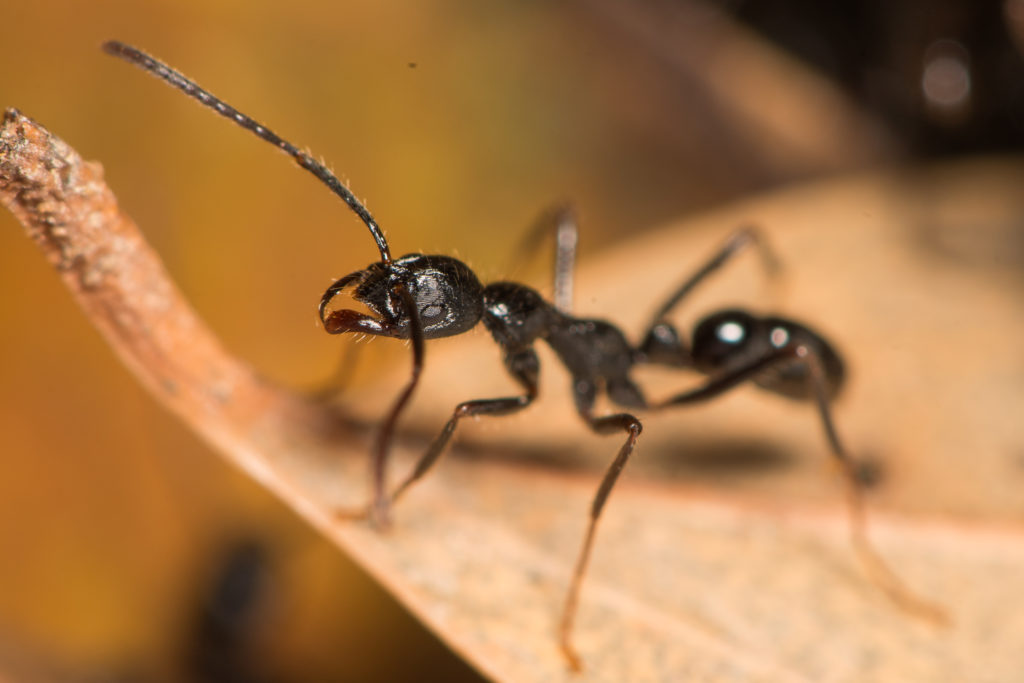 When this Ectomomomyrmex walked into a group of Leptogenys they instantly attacked her. The Ectomomyrmex managed to fend off a few attackers but quickly had to retreat before they could overtake her.
The best-known genus of trap-jaw ants, Odontomachus, are large ponerines. They forage with their mandibles open, ready to snap shut on an unlucky prey. The series of photos below showcases a forager encountering one of her sisters.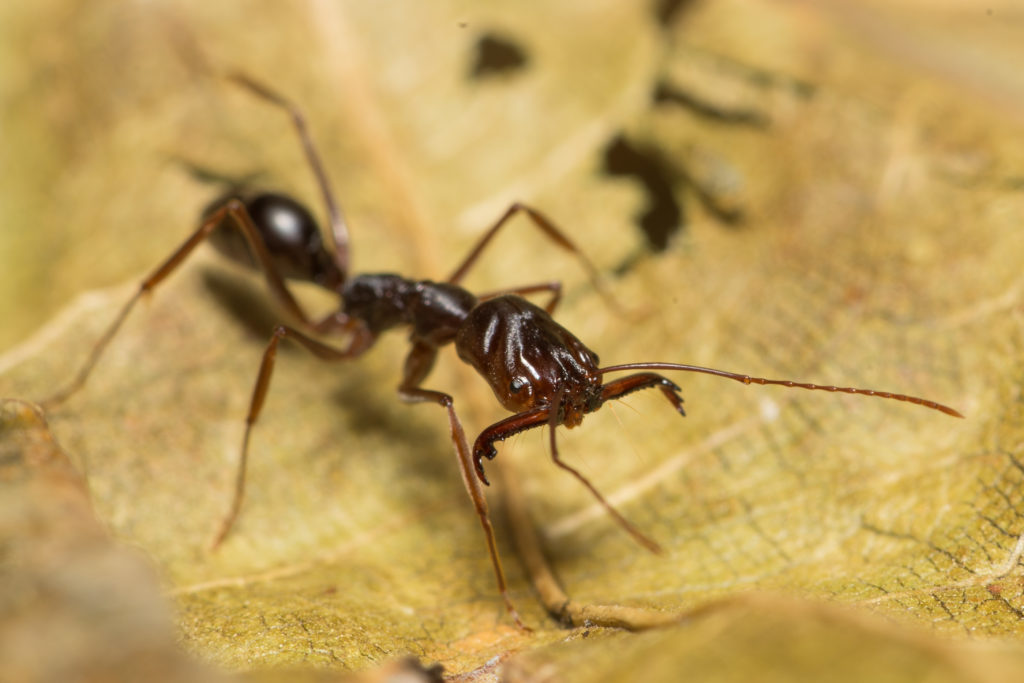 The genus Odontoponera only contains two species; O. transversa and O. denticulata. Despite its low diversity, they are common across Southeast Asia. Here is a gyne of O. denticulata, the only Odontoponera species found in Hong Kong.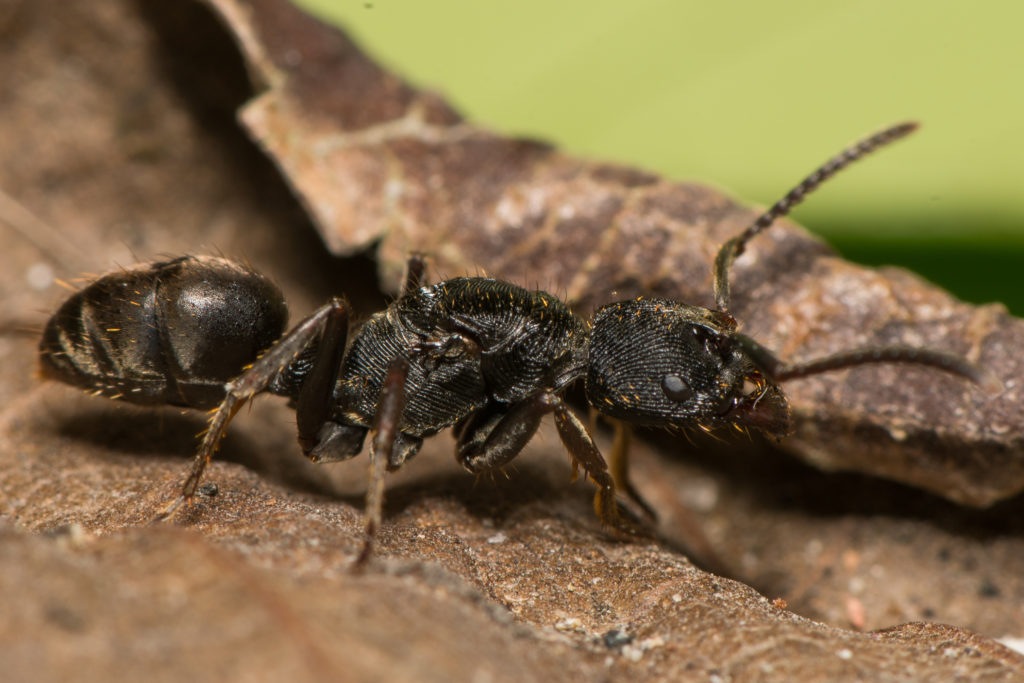 The foamy ants (Pseudoneoponera rufipes) are the largest ants found in Hong Kong. In addition to their bulk, they also possess a unique ability: they produce a foamy secretion when defending themselves. This is what the P. rufipes worker shown below did while successfully defending herself against fire ants (3rd photo).
Subfamily: Pseudomyrmicinae
Ants within the subfamily Pseudomyrmicinae are predominantly arboreal, and sometimes even form mutualistic partnerships with the plant they nest in. Within the subfamily are two main genera, Pseudomyrmex and Tetraponera, which live in the New World and Old World, respectively. Pictured below is T. binghami. I found hundreds of workers of this large species foraging on the ground and nesting in nearby live bamboos.
Ant predators
Assassin bugs (Reduviidae) are fierce predators that hunt their prey by using a piercing proboscis. However, they have their own predators, most notably jumping spiders (Salticidae). Some assassin bugs use ant carcasses to protect themselves against spiders. Since ants are notoriously hostile, by wearing ant remains assassin bugs not only appear larger but also more dangerous. The individual portrayed on the second picture had such massive ant carcasses on its back, most notably the head of a Pseudoneoponera, that it kept toppling over while walking.
Mirror spiders (here a spider within the family Theridiidae) have plate-like structures that reflect light. The spider can even enlarge or shrink them in response to external stimuli. Seemingly fragile, the spider portrayed here nevertheless caught a spiny ant (Polyrhachis sp.), which has a though armor-like cuticle.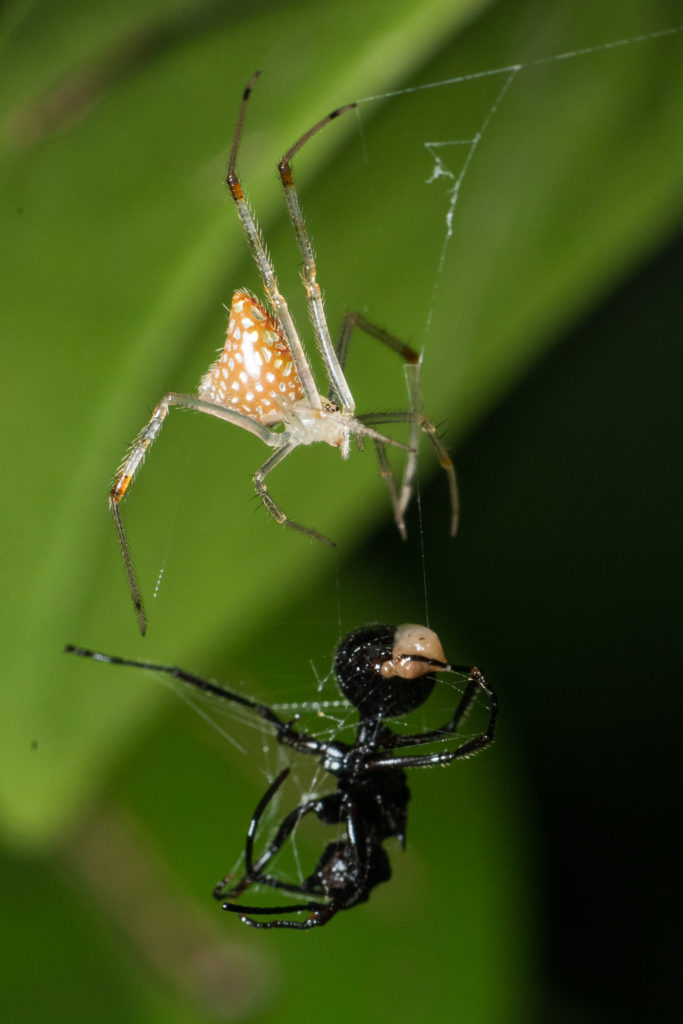 Jumping spiders (Salticidae) in the genus Myrmarachne mimic ants. Apart from its cephalothorax's waist and its silver pilosity, the resemblance of this Myrmarachne to its Polyrhachis mimic is not especially striking on these pictures. However, live specimens wave their front legs to imitate the antennae of ants. It is so convincing that, at first glance in the field, I have repeatedly mistaken these spiders for ants.
Crab spiders (Thomisidae) are classic ambush predators who often wait for their prey concealed on the petals of flowers. But some species, such as this Amyciaea forticeps, mimic their favorite prey; ants. This spider in particular mimics weaver ants (Oecophylla smaragdina) such as the one pictured below.
I thank my fellow IBBL members (and alumni) Mark Wong, Danny Chi-Man Leong, Runxi Wang, Roy Shun Chi Cheung, Roger Ho Lee, Kin Ho Chan, and Ying Luo, as well as my principal investigator Dr. Benoit Guénard for teaching me about Asian ants. This work would not have been possible without their help and all the specimens they brought me.